Travel Agents
---
BALIKPAPAN
---
Travel Contact
PT. Permata Wisata Tours & Travel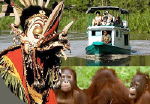 Jl. Harapan RT.13 No.38,Gn. Sari Ilir
Balikpapan 76121, East Kalimantan
Phone : +62-8125361221
Offers destination tour service in Borneo / Kalimantan Island with some tour program such as "Contribute to efforts to save the Rainforest 3 Days / 2 Nights Orangutan Tours" on the nature place like Samboja Reforestation and Protection Rainforest Balikpapan, Mahakam River Tours and Tanjung Puting National Park Tours.
Hotel Blue sky Balikpapan
Phone : (0542) 31666
Fax : (0542) 24094
Telex : 37185
PT. Tomaco
Jl. Jend. A. Yani Bena Kutai
Phone: (0542) 21072
Fax : (0542) 33683
Telex : 37122
Natrabu
Jl. APT. Pranoto No. 58
Phone: (0542) 22443
Telex : 37282
Borneo Discovery Tours



Borneo Discovery Tours in Balikpapan, East Kalimantan is able to organized a discovery tours to visiting the endangered species of Orangutan tours, Orangutan observation at Kutai National Park, Mahakam River Tours, Mahakam River Safari, Cultural & Educational Tours, Banjarmasin Floating Market Tours, Bamboo Rafting, Overland Tours East to South Borneo, Expeditions Tours, Trekking, Sightseeing, City Tours, and Eco-adventure trip in Borneo - Indonesia.
Candra Wirapati
Jl. Jend. A. Yani No.5
Phone: (0542) 21663
Fax : (0542) 21762
Telex : 37377
Dirgantara Bumi Raya
Jl. Jend. Sudirman No. 56
Phone: (0542) 31446
Fax : (0542) 31697
Musi Holiday
Jl. Gajah Mada No. 5-A
Phone: (0542) 22502
Fax : (0542) 24984
Telex : 37179
SAMARINDA
---
Angkasa Express
Jl. KH. Abul Hasan No.59
Phone : (0541) 42098
Fax : (0541) 23314
Cisma Tours & Travel
Jl. Juanda 79-A No. 8
Phone: (0541) 34876, 21572
Fax : (0541) 42700
Telex : 38267 CISMA IA
PT. Metta
Jl. Pahlawan No. 01
Phone: (0541) 32772
Fax : (0541) 41017
Telex : 38144
Angkasa Express
Jl. Jend. A. Yani No.12
Phone : (0542) 35363
Fax : (0542) 23518
Telex : 37335
Agung Sedaya
Jl. Jend. Sudirman 2-B
Phone: (0542) 34628
Fax : (0542) 24482
Duta Miramar
Jl. Jend. Sudirman No. 20
Phone: (0541) 37067
Fax : (0541) 35271
Masnun Anindya
Jl. Dewi Sartika No. 12
Phone: (0541) 42624
Fax : (0541) 42965
Telex : 38165 IA
Paradisa Indah
Jl. P Diponegoro 5-A,
Samarinda
Phone : (0541) 21598
Fax : (0541) 33013
Telex : 38255
Sumber Manggis
Jl. Jend. A. Yani No.2
Phone: (0542) 22043
Fax : (0542) 31964
Telex : 37117
TARAKAN<
---
Tam Jaya Travel
Jl. Yos Sudarso SD V/21-A
Phone: (0551) 21250
Telex : 38322
Tanjung Harapan Mulia
Jl. Yos Sudarso No.38 Tarakan
Phone: (0551) 21272
Wisata Murni Travel
Jl. Jend. Sudirman No.46
Tarakan
Phone: (0551) 21245
Sumbu Nusantara
Jl. Jend. Sudirman 85
Tarakan Barat 77111
Phone: (0551) 21277
Fax : (0551) 21657
Angkasa Express
Jl. Sebengkok 83, Tarakan
Phone: (0551) 21130
Fax : (0551) 21384
Arius Travel
Jl. Veteran No. 115
Phone: (0551) 21240
Telex : 38316
Jaya Dharma Eka Bhakti
Jl. Yos Sudarso No. 31-A
Nusantara Raya Sari
Jl. Martadinata, Nunukan
Phone : (0551) 38

Latest News
Sangalaki Island is a small island covering an area of 15.9 hectares. This island is one of the islands that are part of Derawan Archipelago. Derawan Islands is a group of islands famous in the world. Aside from Sangalaki Island, another famous island of Derawan Islands are Kakaban and Derawan Island. Sangalaki Island located in the waters of the northern peninsula of Berau. Administratively, Sangalaki Island located in Berau Regency of East Kalimantan Province. Most sea turtles in the world are an endangered species. That includes species hawksbill and green…
---
  Maratua island is one of the outer islands in Indonesia that located in Sulawesi Ocean and it bordered with Malaysia. Maratua island is administratively located on Berau regency, East Kalimantan. Maratua is a small and long island, and it has sharply curve at the edge and it located at the south side of Tarakan city. Maratua Island is also part of Derawan Islands.   By the strategic location and the richness of its marine, Maratua island is now popular by the Travelers from many countries. The tourists who give…
---
Bangkirai Hill Bukit Bangkirai is a natural tourism area which is managed by PT. Inhutani I Unit I Balikpapan. This tourist area is located in Samboja District, Kutai regency, East Kalimantan. Bangkirai hill can be reached by traveling overland for 1.5 hours from the city of Balikpapan. This tour offers the charm of a tropical rain forest that is still natural, and facilitated with some infrastructures like restaurants, hall for meetings, a swimming pool and jungle cottage or cabin. In this area there is a canopy bridge along 64 m…
---
Bontang Bontang is a city in East Kalimantan province, Indonesia. The city is located about 120 kilometers from Samarinda, directly have border to the East Kutai regency in the north and west, Kutai Kartanegara regency in the south and Regency Makassar Strait in the east. In this city stand three large companies in different fields, Badak NGL (natural gas), East Kalimantan Fertilizer (fertilizer and ammonia), and Indominco Mandiri (Coal) and has a petrochemical industrial area called the Kaltim Industrial Estate. Bontang city itself is oriented in the industrial, services and…
---