Kakaban Island in Derawan Archipelago, East Kalimantan Province
---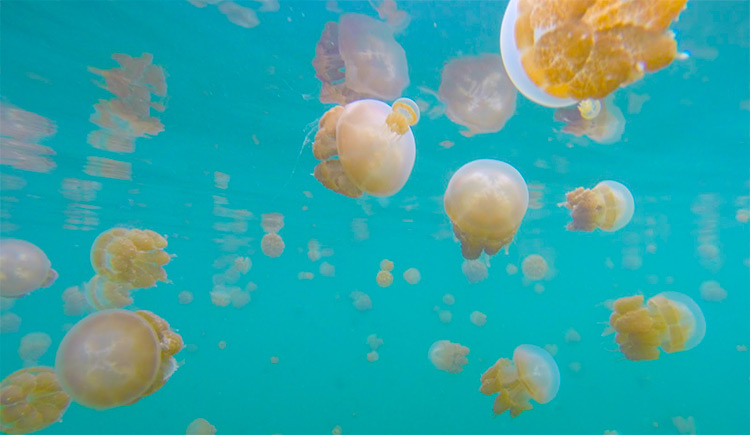 Not all travelers have heard about Kakaban Island. Well, it is one of the islands in Darawan and belongs to Berau District. Those who are visiting East Kalimantan Province should choose it as their prime vacation destinations. It is a must! The island is famous for its serene nature and lake tourism. Some tourists also come to the island to enjoy snorkeling. Both the land and sea attractions of the island are quite luring, after all. Visitors also have an opportunity to explore a small forest, which is located nearby.
The Nuance
Kakaban Island has the size about 774.2 hectares and it is surrounded by lush vegetation. Many types of trees grow on the island and they give a shady and comfortable nuance. The thing is those thick trees often obstruct tourists when it comes to an exploration. Despite the fact, no one gets bothered with it. Once tourists get on the island, they may see a small pier and a welcome sign. It says "Selamat Datang di Pulau Kakaban" (Welcome to Kakaban Island). When it is about the best attraction in Kakaban, it is definitely the lake, located in the midst of a forest.
Exploring Kakaban Island
What makes people come to the island? It is, without a doubt, Kakaban Lake. It contains the mixture of rain water and sea water (infiltrating through the land pores). Due to such unique combination, the lake provides an excellent habitat to stingless jellyfishes. No one knows the origin of those creatures, but they have been there for more than a thousand years. Moreover, there are different types of them, including Moon and Golden jellyfishes. The fact is that they are not harmful, so tourists can get in the water and swim along with them.
The next popular tourist spot in Kakaban Island is Kehe Daeng or Lobang Ikan. During the low tide, such small cave is visible, offering beautiful starfishes and corals. The thing is tourists should come at the right time. Otherwise, such cave won't be visible due to the presence of seawater (high tide). If necessary, they need to hire a local guide. The service helps them to explore the island effectively. That means they won't miss the chance to explore Kehe Daeng and other attractions in Kakaban. It is worth the money!
What's more? Apart from the lake and such unique cave, the island also offers some good spots for snorkeling. People even can see numerous types of sea creatures like white tips, barracudas, and hammer sharks! Not to mention they can find beautiful corals underwater. For those who don't like snorkeling or diving, they can simply enjoy good times at the beach. The environment of the coast is both clean and comfortable, after all. Plus, the air is refreshing!
Nearby Attractions
Kakaban Lake
Kehe Daeng / Lobang Ikan
Maratua Island
Sangalaki Island
How to Get There
The prime checkpoint is Derawan Island. From Balikpapan, travelers need to head to nearby port and take a boat to such destination. Next, they need to take another boat to Kakaban Island, which takes a bit longer than the previous voyage. Despite the long trip, it is quite rewarding.
Where to Stay
Nanukan Island Resort
Maratua Paradise Resort
Derawan Dive Lodge

Latest News
Sangalaki Island is a small island covering an area of 15.9 hectares. This island is one of the islands that are part of Derawan Archipelago. Derawan Islands is a group of islands famous in the world. Aside from Sangalaki Island, another famous island of Derawan Islands are Kakaban and Derawan Island. Sangalaki Island located in the waters of the northern peninsula of Berau. Administratively, Sangalaki Island located in Berau Regency of East Kalimantan Province. Most sea turtles in the world are an endangered species. That includes species hawksbill and green…
---
  Maratua island is one of the outer islands in Indonesia that located in Sulawesi Ocean and it bordered with Malaysia. Maratua island is administratively located on Berau regency, East Kalimantan. Maratua is a small and long island, and it has sharply curve at the edge and it located at the south side of Tarakan city. Maratua Island is also part of Derawan Islands.   By the strategic location and the richness of its marine, Maratua island is now popular by the Travelers from many countries. The tourists who give…
---
Bangkirai Hill Bukit Bangkirai is a natural tourism area which is managed by PT. Inhutani I Unit I Balikpapan. This tourist area is located in Samboja District, Kutai regency, East Kalimantan. Bangkirai hill can be reached by traveling overland for 1.5 hours from the city of Balikpapan. This tour offers the charm of a tropical rain forest that is still natural, and facilitated with some infrastructures like restaurants, hall for meetings, a swimming pool and jungle cottage or cabin. In this area there is a canopy bridge along 64 m…
---
Bontang Bontang is a city in East Kalimantan province, Indonesia. The city is located about 120 kilometers from Samarinda, directly have border to the East Kutai regency in the north and west, Kutai Kartanegara regency in the south and Regency Makassar Strait in the east. In this city stand three large companies in different fields, Badak NGL (natural gas), East Kalimantan Fertilizer (fertilizer and ammonia), and Indominco Mandiri (Coal) and has a petrochemical industrial area called the Kaltim Industrial Estate. Bontang city itself is oriented in the industrial, services and…
---