A Captivating Village in Biduk-Biduk Sub-District – Teluk Sumbang
---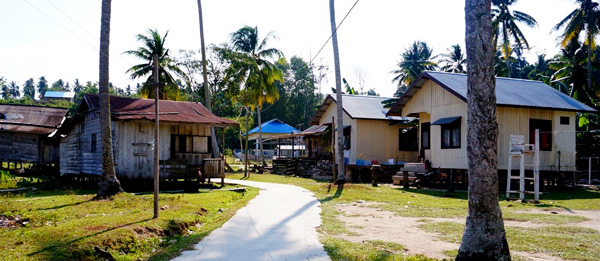 Derawan Archipelago is not only famous for its stunning island, but it is also recognized for its culture. The fact is Dayak Tribe lives in several parts of the region, including Teluk Sumbang Village. It is located at the tip of East Kalimantan Island and becomes a recommended tourist spot for everyone. Why is that? Visitors can meet the locals (Dayak Tribe) and learn their culture. Not to mention they have an opportunity to explore the village. These include a visit to nature tourist spots like Bidadari Waterfall and Teluk Sumbing Beach.
The Nuance
In terms of nuance, the village features a peaceful atmosphere. It is because Teluk Sumbang Village is surrounded by trees, grassland, and mountains. All of them provide fresh air and comfortable shade to people. When it comes to the settlement, the houses look traditional and simple. In fact, no luxury facilities are available. That means the villagers are not influenced by modern technology and contemporary culture. Such purity indeed satisfies people who come to the village. Tourists can learn both local cultures and enjoy interesting specialties like traditional foods, dances, and arts.
Exploring Teluk Sumbang Village
It is without a doubt that Dayak Basap Tribe becomes the main attraction in Teluk Sumbang Village. These people are likely to live in secluded areas. When it comes to physical appearance, their eyes are slanted and their skin is brown. Apart from Teluk Sumbang Village, this tribe also lives in some caves in East Kalimantan Province like Hantu Hill and Tanjung Mangkaliat. Despite the fact, not all of them live in secluded settlements. Some of them have adopted a modern way of living, in fact. Those who live in Teluk Sumbang Village are not an exception.
The fact is that Teluk Sumbang Village has become an ecotourism area. Thanks to the presence of Dayak Basap Tribe. The local government even considers tourists and visitors as a significant income. Moreover, the village is also recognized for its nature attractions. One of them is called Batu Berdiri Beach, which is famous for its stunning white sand. Another interesting reference is Bidadari Waterfall, located near to the village. With all these nature tourist spots, visitors won't get bored when exploring Teluk Sumbang. They can reach those tourist spots easily, as well. It is because the route is quite accessible.
What's next? Enjoying nature attractions and traditional culture of Dayak Basap Tribe are indeed prime activities in Teluk Sumbang Village. However, tourists should not overlook the delicious local snack called Amplang. The fact is it is a specialty of Biduk-biduk sub-district. The locals produce and distribute it to any nearby regions including Teluk Sumbang. The snack is made of local fishes (especially mackerel) and the price is affordable! Therefore, those who visit Teluk Sumbang.
Nearby Attractions
Batu Berdiri Beach
Bidadari Waterfall
Dayak Basap Settlement
How to Get There
For those coming from Balikpapan City, they can take any local transportation service to Berau District. The most recommended option is an airplane and the destination is Kalimarau Airport in Berau. Once they get there, they can directly head to Biduk-biduk and reach Teluk Sumbang Village right away.
Where to Stay
Selvia Hotel
Fajirah Inn
Clarissa Homestay

Latest News
Sangalaki Island is a small island covering an area of 15.9 hectares. This island is one of the islands that are part of Derawan Archipelago. Derawan Islands is a group of islands famous in the world. Aside from Sangalaki Island, another famous island of Derawan Islands are Kakaban and Derawan Island. Sangalaki Island located in the waters of the northern peninsula of Berau. Administratively, Sangalaki Island located in Berau Regency of East Kalimantan Province. Most sea turtles in the world are an endangered species. That includes species hawksbill and green…
---
  Maratua island is one of the outer islands in Indonesia that located in Sulawesi Ocean and it bordered with Malaysia. Maratua island is administratively located on Berau regency, East Kalimantan. Maratua is a small and long island, and it has sharply curve at the edge and it located at the south side of Tarakan city. Maratua Island is also part of Derawan Islands.   By the strategic location and the richness of its marine, Maratua island is now popular by the Travelers from many countries. The tourists who give…
---
Bangkirai Hill Bukit Bangkirai is a natural tourism area which is managed by PT. Inhutani I Unit I Balikpapan. This tourist area is located in Samboja District, Kutai regency, East Kalimantan. Bangkirai hill can be reached by traveling overland for 1.5 hours from the city of Balikpapan. This tour offers the charm of a tropical rain forest that is still natural, and facilitated with some infrastructures like restaurants, hall for meetings, a swimming pool and jungle cottage or cabin. In this area there is a canopy bridge along 64 m…
---
Bontang Bontang is a city in East Kalimantan province, Indonesia. The city is located about 120 kilometers from Samarinda, directly have border to the East Kutai regency in the north and west, Kutai Kartanegara regency in the south and Regency Makassar Strait in the east. In this city stand three large companies in different fields, Badak NGL (natural gas), East Kalimantan Fertilizer (fertilizer and ammonia), and Indominco Mandiri (Coal) and has a petrochemical industrial area called the Kaltim Industrial Estate. Bontang city itself is oriented in the industrial, services and…
---