Primordial Merabu Village in Kelay Sub-District, East Kalimantan Province
---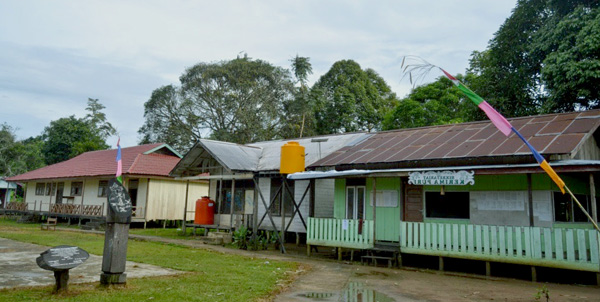 East Kalimantan Province is the home of a famous archipelago called Derawan. In its sub-district, Kelay, an ancient village resides and the name is Merabu. It belongs to Berau District, actually. For tourists, Merabu becomes a perfect site to learn a history of Dayak Basaf Tribe and its valuable culture. Not only it is famous for its historical values, the village also offers stunning nature attractions. That means visitors can enjoy both nature and historical tourism in such location. Not to mention there are many options of tourist spots scattered in different parts of the village.
The Nuance
Once tourists reach the destination, they might see several traditional houses that apply "Gadang House" design. The villagers are friendly and they often approach tourists with their warm smile. Near to the settlement, there is a signboard displaying the name of the village. This way, visitors can notice the location right away. The nuance is peaceful and comfortable, as well. It is because Merabu Village is surrounded by lush vegetation like trees and bushes. The thing is no luxury facilities are available, as the villagers live in a traditional way. They don't even use any washing machine, as they wash their clothes manually.
Exploring Merabu Village
Apart from its calm nuance, Merabu Village offers numerous attractions. The best one is called Beloyot Cave, which is located in a tropical forest area. It takes much stamina to reach the cave, but the trip is quite rewarding. From the local settlement, the distance is about 5 km. Not to mention the route is a bit difficult, as tourists need to pass through a cliff and slippery path. Once they enter the cave, they need to turn on their flashlight as the nuance is dark. The primary attraction in Beloyot is its prehistoric palms, which are carved on the wall of the cave.
The next interesting tourist spot in Merabu Village is Lungun Cave. It also takes some efforts to reach the location, as tourists must pass through a forest. Not to mention it is located in a highland. Once they reach the cave, they can find two ancient corpses inside wooden boxes! According to the locals, those are the ancestors of Dayak Basaf Tribe and the corpses have been there for hundreds of years. The legend has it. Those who lived in a cave needed to look for other caves to live if any member of their families died.
Another worthy site to visit is definitely Nyadeng Lake. The water is crystal clear and the nuance is quite refreshing. From Merabu Village, tourists need to rent a Ketinting boat to reach the location. It takes about 30 minutes. Later, they also need to walk several minutes to reach the exact location of the lake. Due to its fresh and clear water, tourists are likely to swim in it.
Nearby Attractions
Nyadeng Lake
Beloyot Cave
Lungun Cave
How to Get There
For those coming from Samarinda, the trip takes roughly 10 hours. As an alternative, travelers can come from Tanjung Redeb in Berau District. From there, it takes only 5 hours and the prime destination is Kelay Sub-district.
Where to Stay
Cantika Swara Hotel
Bumi Segah Hotel
Neotel Hotel

Latest News
Sangalaki Island is a small island covering an area of 15.9 hectares. This island is one of the islands that are part of Derawan Archipelago. Derawan Islands is a group of islands famous in the world. Aside from Sangalaki Island, another famous island of Derawan Islands are Kakaban and Derawan Island. Sangalaki Island located in the waters of the northern peninsula of Berau. Administratively, Sangalaki Island located in Berau Regency of East Kalimantan Province. Most sea turtles in the world are an endangered species. That includes species hawksbill and green…
---
  Maratua island is one of the outer islands in Indonesia that located in Sulawesi Ocean and it bordered with Malaysia. Maratua island is administratively located on Berau regency, East Kalimantan. Maratua is a small and long island, and it has sharply curve at the edge and it located at the south side of Tarakan city. Maratua Island is also part of Derawan Islands.   By the strategic location and the richness of its marine, Maratua island is now popular by the Travelers from many countries. The tourists who give…
---
Bangkirai Hill Bukit Bangkirai is a natural tourism area which is managed by PT. Inhutani I Unit I Balikpapan. This tourist area is located in Samboja District, Kutai regency, East Kalimantan. Bangkirai hill can be reached by traveling overland for 1.5 hours from the city of Balikpapan. This tour offers the charm of a tropical rain forest that is still natural, and facilitated with some infrastructures like restaurants, hall for meetings, a swimming pool and jungle cottage or cabin. In this area there is a canopy bridge along 64 m…
---
Bontang Bontang is a city in East Kalimantan province, Indonesia. The city is located about 120 kilometers from Samarinda, directly have border to the East Kutai regency in the north and west, Kutai Kartanegara regency in the south and Regency Makassar Strait in the east. In this city stand three large companies in different fields, Badak NGL (natural gas), East Kalimantan Fertilizer (fertilizer and ammonia), and Indominco Mandiri (Coal) and has a petrochemical industrial area called the Kaltim Industrial Estate. Bontang city itself is oriented in the industrial, services and…
---