Manimbora Island in Derawan Islands, Berau District
---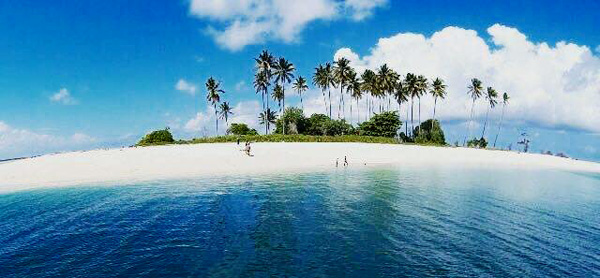 Derawan Archipelago is a recommended vacation spot for everyone, which is located in East Kalimantan Province. Consisted of many islands, it offers unlimited joys and adventures to tourists! Here the reference. The name is Manimbora Island or local people call it Spongebob Island. They consider it similar to Bikini Bottom, on which Spongebob and his friends live. The fact is the island uninhabited and secluded. That means it offers tranquility and comfort to visitors. Some tourists also come to the location for swimming on the beach, actually. Even photography is a good thing to do in Manimbora.
The Nuance
Despite the small size, the island offers a spacious beach, on which tourists can play and conduct beach walking. The sand color is yellowish and it is covered by several twigs and stones. Therefore, it is better to wear comfortable footwear when beach walking. In the back, some coconut trees and bushes grow lavishly. When it is about the sea, the color is blue Tosca and it features calm waves. As if, it lures tourists to get and swim in it. The island also has an interesting feature like skeletons! Some scientists keep researching the history of such human remains, in fact.
Exploring Manimbora Island
Sightseeing is quite common among visitors, as they want to witness beautiful sand beach and its crystal clear water. They can even perform beach walking and explore the island. It won't be a tiring activity because the size of the island is not that big. The only issue is the heat of the sun! Tourists should wear a hat or apply sunblock in order to avoid such discomfort. As an alternative, they can rest under coconut trees. Some remains of mangroves are even seen in the location! Somehow, they become an interesting object for photography.
Apart from pristine sea water, the island has other nature attractions! These include the flock of white storks and the views of nearby islands like Gosong. These features are definitely stunning! For those who love mystery, there are skeletons and headstones scattered in the west part of Manimbora Island. Those human remains are situated near to the beach, in fact. No one knows the story behind them, though. The rumor has it. Those belong to Balikukup Tribe. There is even a special burial site, which belongs to an important person.
The combination of beauty and mystery definitely attracts more tourists to come to Manimbora Island. Is is because they have many options of fun activities to do on the island. These include swimming, beach walking, photography, and visiting Balikukup's burial site. As for tour guide service, they can either hire one or not. The cost of the service is not expensive, after all. Some local tour guides might tell them about the culture of Balikukup People. Isn't that great?
Nearby Attractions
Gosong Island
Balikukup Island
How to Get There
The first destination is Balikpapan City. That means travelers should take an airplane to Sultan Aji Muhammad Airport, which is considered the fastest method. Next, they must head to Berau District and rent a speedboat in Tanjung Batu Port. In this case, the destination is Derawan Island. Later, they need to rent another boat to Manimbora Island.
Where to Stay
Resorts in Derawan Island

Latest News
Sangalaki Island is a small island covering an area of 15.9 hectares. This island is one of the islands that are part of Derawan Archipelago. Derawan Islands is a group of islands famous in the world. Aside from Sangalaki Island, another famous island of Derawan Islands are Kakaban and Derawan Island. Sangalaki Island located in the waters of the northern peninsula of Berau. Administratively, Sangalaki Island located in Berau Regency of East Kalimantan Province. Most sea turtles in the world are an endangered species. That includes species hawksbill and green…
---
  Maratua island is one of the outer islands in Indonesia that located in Sulawesi Ocean and it bordered with Malaysia. Maratua island is administratively located on Berau regency, East Kalimantan. Maratua is a small and long island, and it has sharply curve at the edge and it located at the south side of Tarakan city. Maratua Island is also part of Derawan Islands.   By the strategic location and the richness of its marine, Maratua island is now popular by the Travelers from many countries. The tourists who give…
---
Bangkirai Hill Bukit Bangkirai is a natural tourism area which is managed by PT. Inhutani I Unit I Balikpapan. This tourist area is located in Samboja District, Kutai regency, East Kalimantan. Bangkirai hill can be reached by traveling overland for 1.5 hours from the city of Balikpapan. This tour offers the charm of a tropical rain forest that is still natural, and facilitated with some infrastructures like restaurants, hall for meetings, a swimming pool and jungle cottage or cabin. In this area there is a canopy bridge along 64 m…
---
Bontang Bontang is a city in East Kalimantan province, Indonesia. The city is located about 120 kilometers from Samarinda, directly have border to the East Kutai regency in the north and west, Kutai Kartanegara regency in the south and Regency Makassar Strait in the east. In this city stand three large companies in different fields, Badak NGL (natural gas), East Kalimantan Fertilizer (fertilizer and ammonia), and Indominco Mandiri (Coal) and has a petrochemical industrial area called the Kaltim Industrial Estate. Bontang city itself is oriented in the industrial, services and…
---