Nabucco / Pabahanan Island in Berau District, East Kalimantan
---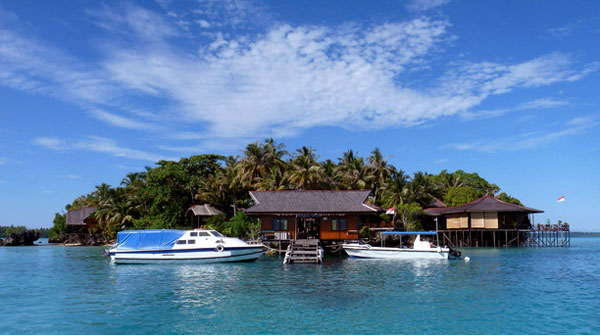 A small isle resides near to Maratua Island and the name is Pabahanan. The locals also call it Nabucco Island, as it is the home of Nabucco Dive Resort. No wonder, it becomes a suitable destination for those who want to relax and get closer to nature. The distance between Maratua and this island is only 3 km. That means tourists can do island hopping easily. Apart from relaxing, people also come to the location to find a habitat of famous bird called Potean or the white bird. It is similar to a pigeon and comes to the island during a special season.
The Nuance
Despite the small size, Pabahanan Island is the home of lucrative nature attractions. In the beach, there is a simple pier with its hut. Some speedboats are also seen in that location. From the pier, tourists can enjoy splendid sea scenery and the view of Maratua Island from afar. The water is pristine and shallow, on which people can swim comfortably. When it comes to the beach, it features soft-textured sand and some vegetation. Next, there is a famous resort called Nabucco, where tourists can rest or sleep. The thing is it gets pricey during holidays.
Exploring Pabahanan Island
Just because it is a small island, doesn't mean Pabahanan is worthless. Here is the fact. Spending a vacation in Nabucco Island is more expensive, as compared to Maratua. It is because the island belongs to a foreigner (the owner of the resort). According to the locals, the owner comes from German. He provides several cottages that come with an expensive price. In fact, the resort only accepts Euro! Those who want to spend a vacation in Nabucco Island should carry much money, as they need to pay several services like accommodations, foods, and transportation.
Apart from relaxation, people come to Nabucco Island for diving. The fact is the resort provides several diving packages to the guests. These include an island hopping to nearby islands, especially Maratua. In terms of price, those packages are considered more expensive than others. Still, they are worth the price! Nothing can compare a peaceful vacation with lots of amenities, including a great accommodation, comfortable speedboat, excellent diving package, and delicious foods. It is likely no one has regretted spending money to spend some days in Nabucco Island.
As for the tips, people should consider about the budget. Transportation is the most significant issue, as the fee for renting a speedboat is quite expensive. Instead of coming alone, it is better to come to Pabahanan with a family or friends. That means each person can chip in, so the cost won't be too pricey. Another tip is to avoid the high season or holidays. Why is that? The cost would be more expensive at that time! Instead, tourists should come during the weekday.
Nearby Attractions
Tanjung Bahaba
Bohesilian Village
Maratua Island
How to Get There
From Balikpapan City, travelers can simply head to Berau District. It is where Tanjung Batu is located. From there, they should take a speedboat to Derawan Island and use another boat to Maratua Island. Another boat is needed, as they need to head to Nabucco.
Where to Stay

Latest News
Sangalaki Island is a small island covering an area of 15.9 hectares. This island is one of the islands that are part of Derawan Archipelago. Derawan Islands is a group of islands famous in the world. Aside from Sangalaki Island, another famous island of Derawan Islands are Kakaban and Derawan Island. Sangalaki Island located in the waters of the northern peninsula of Berau. Administratively, Sangalaki Island located in Berau Regency of East Kalimantan Province. Most sea turtles in the world are an endangered species. That includes species hawksbill and green…
---
  Maratua island is one of the outer islands in Indonesia that located in Sulawesi Ocean and it bordered with Malaysia. Maratua island is administratively located on Berau regency, East Kalimantan. Maratua is a small and long island, and it has sharply curve at the edge and it located at the south side of Tarakan city. Maratua Island is also part of Derawan Islands.   By the strategic location and the richness of its marine, Maratua island is now popular by the Travelers from many countries. The tourists who give…
---
Bangkirai Hill Bukit Bangkirai is a natural tourism area which is managed by PT. Inhutani I Unit I Balikpapan. This tourist area is located in Samboja District, Kutai regency, East Kalimantan. Bangkirai hill can be reached by traveling overland for 1.5 hours from the city of Balikpapan. This tour offers the charm of a tropical rain forest that is still natural, and facilitated with some infrastructures like restaurants, hall for meetings, a swimming pool and jungle cottage or cabin. In this area there is a canopy bridge along 64 m…
---
Bontang Bontang is a city in East Kalimantan province, Indonesia. The city is located about 120 kilometers from Samarinda, directly have border to the East Kutai regency in the north and west, Kutai Kartanegara regency in the south and Regency Makassar Strait in the east. In this city stand three large companies in different fields, Badak NGL (natural gas), East Kalimantan Fertilizer (fertilizer and ammonia), and Indominco Mandiri (Coal) and has a petrochemical industrial area called the Kaltim Industrial Estate. Bontang city itself is oriented in the industrial, services and…
---