Baitul Hikmah Great Mosque in Tanjung Redeb Sub-District, East Kalimantan
---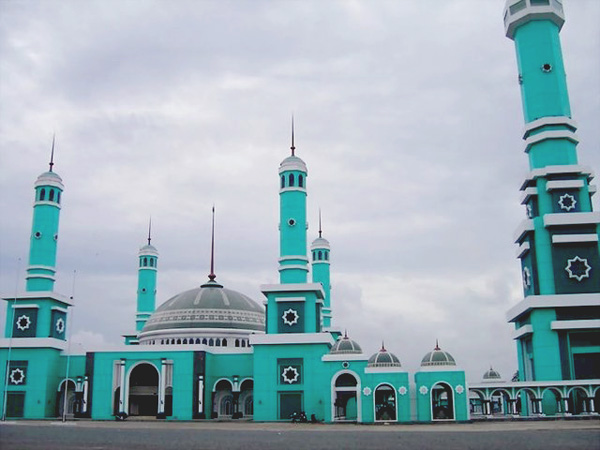 Being a recommended vacation destination in Indonesia, Derawan Islands offers lots of tourist spots to travelers. Apart from nature and culture tourism, it is also famous for its religious tourism. For example, there is a famous mosque in Tanjung Redeb Sub-district called Baitul Hikmah. That great mosque is the considered one of the biggest mosques in Kalimantan Province, including Samarinda Islamic Center. Aside from being a place for worshipping, it also becomes an interesting tourist spot for visitors. Travelers drop by in the location to witness its majestic structure and take a rest for a while before continuing their adventure.
The Nuance
Being a great mosque, Baitul Hikmah has an enormous size. It doesn't have luxurious features, though. The main color of the mosque is green and it has 4 primary pillars. The main entrance is quite tall, as well. Inside, it shows a neat and clean environment. Thanks to the management. Local Muslims come to the mosque to do daily worshipping, as well. Not to mention the mosque would be quite crowded during special events like Eid Al-Fitr and Eid al-Adha. For those who want a more peaceful nuance, it is better to come outside of the five-time prayers.
Exploring Baitul Hikmah Great Mosque
People have many reasons for visiting Baitul Hikmah Great Mosque. For example, they want to learn the history of such majestic structure. According to the locals, the government spent about 2 and half years in building the mosque. The inauguration was in 2005 and the first name was Al-Hikmah Great Mosque. Later, it changed its name to Baitul Hikmah. At that time, it was the biggest mosque in Kalimantan Island. However, the construction of Samarinda Islamic Center had replaced its status as the greatest mosque in Borneo.
For tourists, the mosque can be either a worshiping place or a religious tourist spot. In fact, there is a special program called "Tabligh Akbar", which is conducted once in two years. Moreover, both local and foreign Moslems are allowed to join it. What's more? The mosque is also famous for its tower. The tallest one reaches up to 70 meters and it provides numerous benefits to its surrounding. For example, the locals use it as a cellular phone tower. Not to mention many swallow nests in it. Such valuable commodity becomes an extra income for the mosque, in fact.
As for visitors, the prime tower of Baitul Hikmah Mosque can be a perfect site for sightseeing. The best thing is there is a lift in it. That means visitors can reach the top of the tower without hassles. There are several rules, though. A single trip to the top of the tower is only available for 20 people. Also, they can only spend up tp 15 minutes to enjoy views from above.
Nearby Attractions
Sanggam Park
Gideon Toraja Church
Cendana Park
How to Get There
First, travelers need to take a plane and head to Balikpapan City. Once they reach Sultan Aji Muhammad Sulaiman Airport, their next destination is Berau District (Tanjung Redeb Sub-district). Next, they can directly head to Karang Ambun, where Baitul Hikmah Mosque Resides.
Where to Stay
Grand Parama Hotel
Neotel Hotel
Cantika Swara Hotel

Latest News
Sangalaki Island is a small island covering an area of 15.9 hectares. This island is one of the islands that are part of Derawan Archipelago. Derawan Islands is a group of islands famous in the world. Aside from Sangalaki Island, another famous island of Derawan Islands are Kakaban and Derawan Island. Sangalaki Island located in the waters of the northern peninsula of Berau. Administratively, Sangalaki Island located in Berau Regency of East Kalimantan Province. Most sea turtles in the world are an endangered species. That includes species hawksbill and green…
---
  Maratua island is one of the outer islands in Indonesia that located in Sulawesi Ocean and it bordered with Malaysia. Maratua island is administratively located on Berau regency, East Kalimantan. Maratua is a small and long island, and it has sharply curve at the edge and it located at the south side of Tarakan city. Maratua Island is also part of Derawan Islands.   By the strategic location and the richness of its marine, Maratua island is now popular by the Travelers from many countries. The tourists who give…
---
Bangkirai Hill Bukit Bangkirai is a natural tourism area which is managed by PT. Inhutani I Unit I Balikpapan. This tourist area is located in Samboja District, Kutai regency, East Kalimantan. Bangkirai hill can be reached by traveling overland for 1.5 hours from the city of Balikpapan. This tour offers the charm of a tropical rain forest that is still natural, and facilitated with some infrastructures like restaurants, hall for meetings, a swimming pool and jungle cottage or cabin. In this area there is a canopy bridge along 64 m…
---
Bontang Bontang is a city in East Kalimantan province, Indonesia. The city is located about 120 kilometers from Samarinda, directly have border to the East Kutai regency in the north and west, Kutai Kartanegara regency in the south and Regency Makassar Strait in the east. In this city stand three large companies in different fields, Badak NGL (natural gas), East Kalimantan Fertilizer (fertilizer and ammonia), and Indominco Mandiri (Coal) and has a petrochemical industrial area called the Kaltim Industrial Estate. Bontang city itself is oriented in the industrial, services and…
---