Kehe Daing Lagoon or Lobang Ikan in Kakaban Island, East Kalimantan
---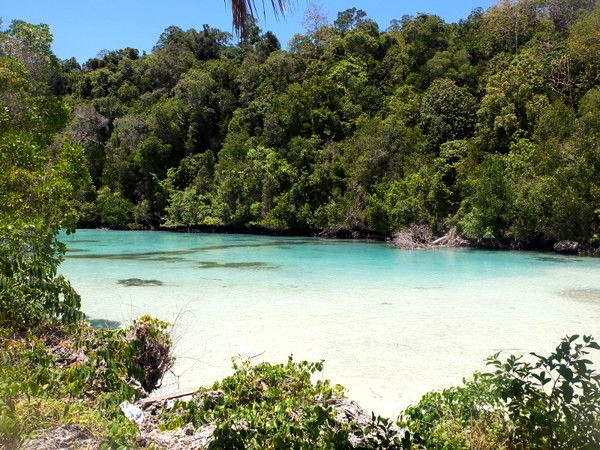 Travelers should have heard about Derawan Archipelago. It is a recommended tourist spot for those visiting Indonesia. Featuring beautiful islands and shoals, tourists can enjoy a wonderful holiday there. Here is a reference. The name is Kehe Daing Lagoon and it is located in Kakaban Island. The locals call it Lobang Ikan, actually. The site offers stunning scenery and serene nuance. In fact, it is located near to Kakaban Lake, so tourists can visit two valuable tourist spots at once. Not only it is suitable for relaxation, but the lagoon is also perfect for photography and swimming!
The Nuance
The site offers many beautiful features, including a white sandy beach. However, it takes some time and efforts to reach the location. Apart from the beach, there are lush bushes and trees. There is even a small tunnel and it appears during the low tide. It also becomes an alternative entrance to reach the bay. What's next? As mentioned earlier, it is situated near to famous Kakaban Lake. Tourists only need to walk several minutes in order to reach the location. Both of them offer comfortable atmospheres, in fact.
Exploring Kehe Daing Lagoon
There are two ways in reaching Lobang Ikan. First, tourists can take the most common path, which is the stairs. As an alternative, they can take advantage of a small tunnel or cave, which appears during the low tide. Once they reach the lagoon, flawless views of the water never fail to amaze them. The color of the water is green Tosca and it features bluish color too. The reason is the lagoon is still connected to the sea. With such stunning scenery, tourists can enjoy photography to their heart's content!
Trekking is also popular in Kehe Daing Lagoon. Like it or not, visitors need to go trekking in order to reach the lagoon. Once they reach the spot, they might see flawless water with its purity. Near to it, they can find a lush forest, on which they can explore. No human is seen in the location, so it represents a peaceful nuance. Only some fishermen come to the area for fishing, but it is quite rare. With such serene atmosphere, visitors have the chance to eradicate stresses and get close to nature. Even the air feels refreshing!
The next activity is swimming. The water is fresh and warm, even in the morning. Since no one lives nearby, the lagoon can be considered as a private tourist spot for visitors. Once they enjoy swimming, they can do other things like relaxation and photography. In fact, some families come to the location to enjoy a family vacation. That means they choose Kehe Daing Lagoon as a place for a recreation.
Nearby Attractions
Haji Mangku Cave
Kakaban Lake
Maratua Island
How to Get There
For those living outside Kalimantan Island, they need to take an airplane to Balikpapan City. From there, the next destination is Tanjung Batu Port in Berau District. It is the spot where they can rent a speedboat and head to Derawan Island. Once they reach the location, they can take another boat service to Kakaban Island, which takes about 45 minutes. That's all.
Where to Stay
Maratua Paradise Resort
Nunukan Island Resort
Derawan Dive Resort