Bilang-Bilangan Beach in Batuputih Sub-District, Derawan Islands
---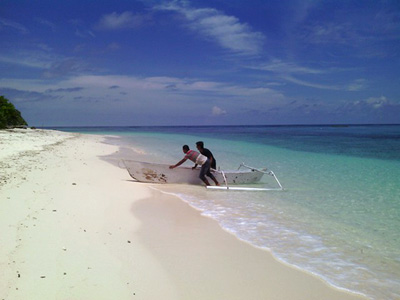 Visiting Derawan Archipelago in East Kalimantan Province is worth the money. It has many references of islands, on which tourists can explore. One of them is called Bilangan-Bilangan Island, which is famous for its flawless beach. It belongs to Batuputih Sub-district, actually. The locals often call it Telur Island, as many green sea turtles come to the island and its beaches to lay eggs. The fact is such region is considered one of the biggest producers of sea turtle eggs in Berau District. For tourists, both the island and the beach become an excellent site to spend a holiday!
The Nuance
As the name suggests, Bilang-bilangan Beach got its name from the location where it resides. It is also located near to Mataha Island, which is also worth a visit. The beach is uninhabited, so it is suitable for relaxation. In terms of beauty, it is definitely stunning, featuring white sand and pristine sea water. Even the waves are calm so tourists can swim in it easily. Sometimes, local boats are seen there. Tourists would be lucky if they are allowed to ride on them. Apart from those attractions, there are some green sea turtles coming ashore for laying eggs!
Exploring Bilang-Bilangan Beach
Once tourists reach Bilang-Bilangan Island, the first thing to do is to learn a bit history of the island. It is said the island belongs to Bajau Tribe, who lives in Balikukup. A tour guide would tell the story to his clients, after all. Still, the island is famous for its beach! The fact is that tourists can do many things in such coastal area. For example, they can enjoy sea scenery and walk around the beach barefoot. Due to its soft texture, the sand feels comfortable when tourists walk on it.
The most famous attraction in Bilang-Bilangan Beach is the egg-laying process. Many green sea turtles come to the beach and find great spots to lay their eggs. This phenomenon is definitely attractive. Later, the locals might move the eggs to better locations in order to avoid the high tide, which can damage them. The fact is there is conservation for those eggs, on which visitors can visit. They also have the chance to join the release of small sea turtles to the sea. Visitors can even take some pictures of that moment.
Some rangers are seen in Bilang-Bilangan Beach, as they take care of the eggs and keep predators away from the location. They also protect the eggs from thievery! No wonder, green sea turtle's eggs have tons of values, so bad people often hunt them for money. For tourists, they are only allowed to take pictures and witness the eggs from near. That means touching is not allowed.
Nearby Attractions
Mataha Island
Balikukup Island
Sunginau Cave
Kampung Tembudan Fountain
Lobang Bayan
How to Get There
First, travelers need to visit Balikpapan City. From there, the next destination is Berau District or Berau Port. That is the place where they rent a speedboat and the destination is Derawan Island (the main checkpoint). Later, another boat is needed in reaching Bilang-Bilangan Island.
Where to Stay
Available resorts are in Derawan Island

Latest News
Sangalaki Island is a small island covering an area of 15.9 hectares. This island is one of the islands that are part of Derawan Archipelago. Derawan Islands is a group of islands famous in the world. Aside from Sangalaki Island, another famous island of Derawan Islands are Kakaban and Derawan Island. Sangalaki Island located in the waters of the northern peninsula of Berau. Administratively, Sangalaki Island located in Berau Regency of East Kalimantan Province. Most sea turtles in the world are an endangered species. That includes species hawksbill and green…
---
  Maratua island is one of the outer islands in Indonesia that located in Sulawesi Ocean and it bordered with Malaysia. Maratua island is administratively located on Berau regency, East Kalimantan. Maratua is a small and long island, and it has sharply curve at the edge and it located at the south side of Tarakan city. Maratua Island is also part of Derawan Islands.   By the strategic location and the richness of its marine, Maratua island is now popular by the Travelers from many countries. The tourists who give…
---
Bangkirai Hill Bukit Bangkirai is a natural tourism area which is managed by PT. Inhutani I Unit I Balikpapan. This tourist area is located in Samboja District, Kutai regency, East Kalimantan. Bangkirai hill can be reached by traveling overland for 1.5 hours from the city of Balikpapan. This tour offers the charm of a tropical rain forest that is still natural, and facilitated with some infrastructures like restaurants, hall for meetings, a swimming pool and jungle cottage or cabin. In this area there is a canopy bridge along 64 m…
---
Bontang Bontang is a city in East Kalimantan province, Indonesia. The city is located about 120 kilometers from Samarinda, directly have border to the East Kutai regency in the north and west, Kutai Kartanegara regency in the south and Regency Makassar Strait in the east. In this city stand three large companies in different fields, Badak NGL (natural gas), East Kalimantan Fertilizer (fertilizer and ammonia), and Indominco Mandiri (Coal) and has a petrochemical industrial area called the Kaltim Industrial Estate. Bontang city itself is oriented in the industrial, services and…
---