Bidadari Waterfall in Teluk Sumbang Village, Derawan Archipelago
---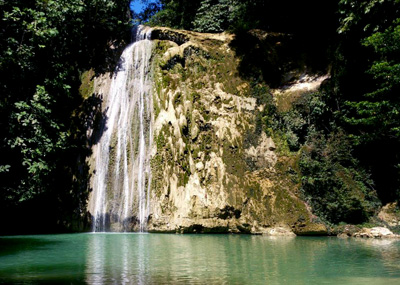 Everyone should visit Derawan Islands someday. Many options of nature tourism, historical sites, and cultural attractions are available there. For those looking for a calm tourist spot, there is Bidadari Waterfall in Teluk Sumbang Village and it belongs to Biduk-biduk sub-district. Bidadari means "seraphs", actually. The rumor says there were beautiful angles taking bath in such falls. The location is near to a local beach and the distance is about 100 meters. The fact is the water flows directly to the sea. With a calm nuance and beautiful scenery, the waterfall becomes tourists' favorite spot for relaxing and playing water.
The Nuance
As mentioned before, Bidadari Waterfall features a relaxing and peaceful nuance. The sound of the water is hypnotizing and the beauty of the water is quite captivating. Not to mention lush vegetation surrounds the site, creating a comfortable atmosphere. The fact is there are 2 levels of the waterfall. The first one has the height of 5 meters. The second waterfall is located about 500 meters from it, and it has the height of 30 meters! Sometimes, rainbows appear beautifully there. Even the water is refreshing and the pond is suitable for swimming!
Exploring Bidadari Waterfall
Due to its serenity, Bidadari Waterfall indeed represents a pond, on which angles take a bath. Some locals even consider it as a sacred site! They also give another name to it, which is Soom Waterfall. Despite its mystical aura, the waterfall remains interesting for tourists to visit. They can also perform trekking in a nearby forest. The locals or Dayak People would be their guide in exploring the location, after all. These people are friendly and some of them can talk English, as well. Plus, they have both experience and knowledge regarding the route.
In order to reach the waterfall, tourists should give some efforts. The reason is the falls is situated in a forest, featuring a challenging route. Before heading to the location, it is better to approach the local settlement where Dayak Basap Tribe lives. These people have an interesting way of living and cultures, after all. They can also help tourists in exploring the forest and heading to Bidadari Waterfall in an efficient manner. Not to mention they have a famous art of crafting, which produces soft and beautiful rattan handicrafts.
Apart from being a famous tourist spot in Teluk Sumbang Village, Bidadari Waterfall becomes a significant source of electrical power there. Even its popularity has been acknowledged by foreigners. Not only visitors are interested in visiting the falls, they are likely to visit nearby attractions like mangroves and beaches. In fact, the location becomes the home of famous animal species called "bekantan" or proboscis monkey. They are often seen on the branches of mangroves, actually.
Nearby Attractions
Batu Berdiri Beach
Bidadari Waterfall
Dayak Basap Settlement
Teluk Sumbang Beach
How to Get There
Teluk Sumbang Village is located in Biduk-Biduk Sub-district. For outsiders, they need to take an airplane to Balikpapan City first. Once they get there, they can take any local transportation service to Biduk-Biduk. The waterfall resides near to Teluk Sumbang Beach, actually. It even involves short trekking to reach the location.
Where to Stay
Selvia Hotel
Clarissa Homestay
Fajirah Inn

Latest News
Sangalaki Island is a small island covering an area of 15.9 hectares. This island is one of the islands that are part of Derawan Archipelago. Derawan Islands is a group of islands famous in the world. Aside from Sangalaki Island, another famous island of Derawan Islands are Kakaban and Derawan Island. Sangalaki Island located in the waters of the northern peninsula of Berau. Administratively, Sangalaki Island located in Berau Regency of East Kalimantan Province. Most sea turtles in the world are an endangered species. That includes species hawksbill and green…
---
  Maratua island is one of the outer islands in Indonesia that located in Sulawesi Ocean and it bordered with Malaysia. Maratua island is administratively located on Berau regency, East Kalimantan. Maratua is a small and long island, and it has sharply curve at the edge and it located at the south side of Tarakan city. Maratua Island is also part of Derawan Islands.   By the strategic location and the richness of its marine, Maratua island is now popular by the Travelers from many countries. The tourists who give…
---
Bangkirai Hill Bukit Bangkirai is a natural tourism area which is managed by PT. Inhutani I Unit I Balikpapan. This tourist area is located in Samboja District, Kutai regency, East Kalimantan. Bangkirai hill can be reached by traveling overland for 1.5 hours from the city of Balikpapan. This tour offers the charm of a tropical rain forest that is still natural, and facilitated with some infrastructures like restaurants, hall for meetings, a swimming pool and jungle cottage or cabin. In this area there is a canopy bridge along 64 m…
---
Bontang Bontang is a city in East Kalimantan province, Indonesia. The city is located about 120 kilometers from Samarinda, directly have border to the East Kutai regency in the north and west, Kutai Kartanegara regency in the south and Regency Makassar Strait in the east. In this city stand three large companies in different fields, Badak NGL (natural gas), East Kalimantan Fertilizer (fertilizer and ammonia), and Indominco Mandiri (Coal) and has a petrochemical industrial area called the Kaltim Industrial Estate. Bontang city itself is oriented in the industrial, services and…
---