Samama Island in Derawan Archipelago, East Kalimantan Province
---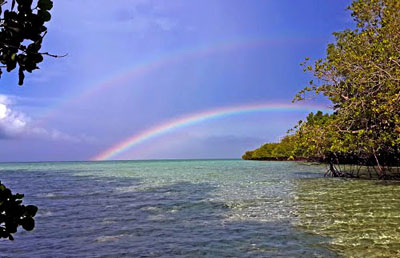 A vacation retreat is the best remedy for stresses and boredom that is caused by busy life. In this case, tourists need to find the right destination to enjoy a meaning vacation. Here is an idea. A beautiful island resides in Derawan Archipelago, called Samama. It belongs to East Kalimantan Province and emits a peaceful ambiance! That means tourists can take advantage of such serenity in order to eradicate their burdens at once. Not only the island is suitable for relaxing, Samama also becomes the right location for swimming, beach walking, and snorkeling.
The Nuance
As mentioned before, the nuance is quite peaceful as not many people are seen in the location. Only several boat operators and cottages owners are wandering around the island. Also, more tourists are likely to come to Samama in holidays. What about the environment? Well, the island consists of different landscapes. In the beach, the sand has white color and soft texture, which is perfect for beach walking and playing around. The shoreline has shallow water, in fact. That means tourists can enjoy swimming in such area in a safe and comfortable manner. Near to the beach, some bushes, palm trees, and a local cottage reside.
Exploring Samama Island
Most of the visitors want to enjoy a peaceful vacation in Samama Island. That doesn't mean their options of fun activities are limited. For example, they can enjoy photography and beach walking. The size of the island is small, so it is possible to explore it by walking. Along the way to such adventure, tourists can take some pictures of the nature like trees, sea scenery, and others. It costs nothing to enjoy such activity, in fact. What they need is a good camera, comfortable footwear, some snacks, and bottled water.
What's next? For more interesting experiences, visitors should get in the water either for swimming or snorkeling. Here is an issue. Not many snorkeling spots are available, so there won't be many nautical attractions there. Moreover, some manta rays live near to the island. According to tour guides, these animals are harmful when people get too close to them. Therefore, it is better to conduct snorkeling with a guide or instructor for the sake of safety. Not to mention no facilities are available in Samama, so tourists must carry their own gear.
Another attraction in Samama Island is its shady mangroves. The fact is such vegetation surrounds the island perfectly. This explains why the island looks so wild and secluded. Despite such nuance, visitors can take advantage of it for a small exploration and photography. As long as they come with proper footwear and supportive equipment, they are good to go. Later, they should continue their adventure by visiting nearby islands, especially Sangalaki.
Nearby Attractions
Sangalaki Island
Derawan Island
How to Get There
For outsiders, a flight to Balikpapan City is needed. Next, they must head to Berau District, where Tanjung Batu Port resides. From there, they need to rent a boat to Derawan Island. The next destination is Samama Island that requires another boat service.
Where to Stay
Derawan Dive Lodge