Local Payau Captive Breeding in Sambaliung Sub-District, Berau
---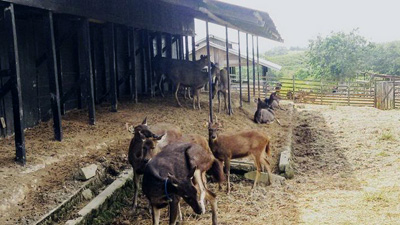 After enjoying good times in Derawan Archipelago, it is the time to visit other attractions in Berau District. In this case, Sambaliung Sub-district becomes a recommended destination for tourists. A local Payau Captive Breeding resides in such region, after all. Payau is the local name for Cervus Unicolor, which is also called Sambar Deer. Being the biggest species of deer in Indonesia, these animals become quite an attraction in Berau. Today, tourists can witness them in Sambaliung, too. That means visitors are allowed to take pictures, touch, and even feed them!
The Nuance
During the holiday, the site has more visitors and most of them are families with kids. The size of Payau Captive Breeding site is considered big because it can accommodate 64 animals. Their size is also considered amazing and the males have majestic antlers. No wonder, these animals become a perfect object for photography. They are tame either, so tourists can approach them without hassles. Some keepers are seen in the location and they often give a chance to tourists for feeding the deer. It is a great experience, so no one should waste it.
Exploring Payau Captive Breeding
Simply put, such captive breeding site is suitable for an educational tour. Parents can introduce Sambar Deer to their kids and interact with the animals directly. Apart from those animals, the site also has a cool nuance because it is surrounded by trees and dense bushes. In the middle of the site, there are several sheds, on which the deer rest and sleep. Some keepers also work diligently in the location. As mentioned before, they allow visitors to enter the conservation in order to interact with those beautiful animals.
It is true not all of those deer are tame. Despite the fact, the keepers would make sure the safety of tourists. As long as visitors follow any instructions given by the keepers, they won't get hurt. It is also possible to take close pictures with the deer. As for the tip, female deer is considered calmer than the male ones. That means they may not cause troubles when it comes to photography or interaction. It is even easy to touch them! Unlike the males, female deer has no antlers, so they are not quite interesting for photography.
The rule is visitors are not allowed to carry foods from outside the conservation. It is because the keepers have already provided it on the site. The thing is tourists must buy these foods if they want to feed the deer. Have no worries. It is worth the money. Nothing can replace the experience of feeding majestic animals, no? As for the ticket, the price is affordable, so everyone would be able to afford it.
Nearby Attractions
Sambaliung Palace
Inaran Waterfall
Musuk River
Kelay River
Rantau Panjang Waterfall
Nyapa Indah Village
Sentosa Waterpark
How to Get There
The first checkpoint is Tanjung Redeb, which is the capital of Berau District. Tourists can reach it by airplane and their destination is Kalimarau Airport. Once they get there, the next trip heads to Sambaliung Sub-district. It is better to take a taxi, as it is faster and more convenient.
Where to Stay
Bumi Segah Hotel
Cantika Swara Hotel
Grand Parama Hotel

Latest News
Sangalaki Island is a small island covering an area of 15.9 hectares. This island is one of the islands that are part of Derawan Archipelago. Derawan Islands is a group of islands famous in the world. Aside from Sangalaki Island, another famous island of Derawan Islands are Kakaban and Derawan Island. Sangalaki Island located in the waters of the northern peninsula of Berau. Administratively, Sangalaki Island located in Berau Regency of East Kalimantan Province. Most sea turtles in the world are an endangered species. That includes species hawksbill and green…
---
  Maratua island is one of the outer islands in Indonesia that located in Sulawesi Ocean and it bordered with Malaysia. Maratua island is administratively located on Berau regency, East Kalimantan. Maratua is a small and long island, and it has sharply curve at the edge and it located at the south side of Tarakan city. Maratua Island is also part of Derawan Islands.   By the strategic location and the richness of its marine, Maratua island is now popular by the Travelers from many countries. The tourists who give…
---
Bangkirai Hill Bukit Bangkirai is a natural tourism area which is managed by PT. Inhutani I Unit I Balikpapan. This tourist area is located in Samboja District, Kutai regency, East Kalimantan. Bangkirai hill can be reached by traveling overland for 1.5 hours from the city of Balikpapan. This tour offers the charm of a tropical rain forest that is still natural, and facilitated with some infrastructures like restaurants, hall for meetings, a swimming pool and jungle cottage or cabin. In this area there is a canopy bridge along 64 m…
---
Bontang Bontang is a city in East Kalimantan province, Indonesia. The city is located about 120 kilometers from Samarinda, directly have border to the East Kutai regency in the north and west, Kutai Kartanegara regency in the south and Regency Makassar Strait in the east. In this city stand three large companies in different fields, Badak NGL (natural gas), East Kalimantan Fertilizer (fertilizer and ammonia), and Indominco Mandiri (Coal) and has a petrochemical industrial area called the Kaltim Industrial Estate. Bontang city itself is oriented in the industrial, services and…
---