Tembalang Waterfall in Segah Sub-District, Berau
---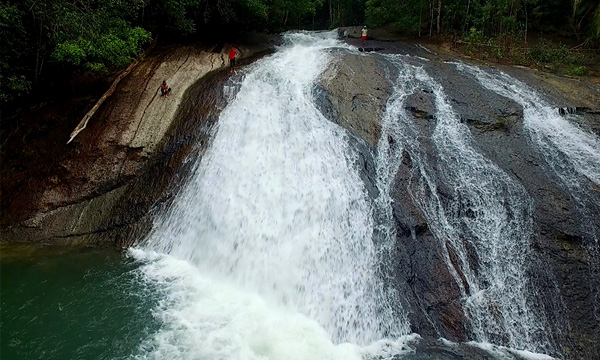 When it comes to a vacation in Berau District, people are likely to refer to Derawan Archipelago. Yet, they also have a consideration in visiting other tourist attractions in such region. For instance, there is Tembalang Waterfall, which is located in Segah Sub-district. To be exact, this beautiful tourist spot resides in Tepian Buah Village. Due to its natural nuance, the spot attracts both locals and foreigners. Those people come to the location to spend their weekend and get closer to nature. Some of them also come to the falls for numerous activities like relaxation and photography.
The Nuance
The waterfall is not that high. Instead, it is sloping, so people can climb it well. Also, the flow of the water is similar to that of a river. Still, it is considered as a waterfall! In terms of nuance, it is quite comfortable. The location is surrounded by trees, so it provides a cool and comfortable atmosphere. Below, there is a nature pond, on which tourists can get in. The water is fresh and rejuvenating, as well. In the morning, it feels even fresher! Not to mention the site is quiet because not many people often come to the location.
Exploring Tembalang Waterfall
Being a beautiful and calming waterfall, Tembalang is considered a new tourism potential in Berau District. It is an asset. Therefore, the local government has put some efforts in retaining its beauty and improving its facilities. Due to such efforts, more people come to the site, especially on Sunday. That means the location is more crowded these days. This proves that Berau District is not all about Derawan Islands, but also it also offers majestic nature attractions. Visitors can simply enjoy the atmosphere or swim in the pond!
There is also a unique reason why people coming to Tembalang Waterfall. For example, they want to enjoy the trip, which is quite challenging. In order to reach the location, they must pass through some obstacles, in fact. They even need to go through a forest for about 2 hours. Despite the tiring and difficult trip, tourists consider it an adventure. They enjoy the unspoiled nuance of the forest and its fresh air. Later, their tiredness would go away instantly as they reach the location where the waterfall resides.
Here is the thing. People should get permission in entering the forest. In this case, they can talk to a tour agent, so such service would take care of that issue for them. What they need to do is to spend more money on it. As an alternative, they can hire a local tour guide. These solutions are considered more convenient than heading to the location alone. That means the cost of the service is quite worth it.
Nearby Attractions
Tepian Buah Village
Ketinting Boat Ride
How to Get There
The first checkpoint is Tanjung Redeb, which is the capital of Berau. Travelers can take an airplane to go there. In this case, the destination is Kalimarau Airport. Next, they can take a local transportation service to Segah Sub-district, which takes about 3 hours. The distance is 116 km and the best route to use is Ahmad Yani Street.
Where to Stay
Hotels in Tanjung Redeb