Wandering in Sea Turtle Conservation, Sangalaki Island, Berau District
---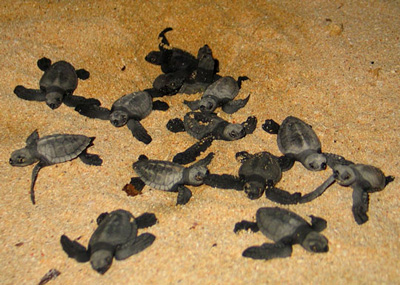 Derawan Archipelago offers thousands of vacation experiences to visitors. One of its islands is called Sangalaki and it becomes the home of famous sea turtle conservation. That means tourists can come to the location and witness sea turtles' egg laying process directly. It is both fun and educative. No wonder, parents often bring their kids there. They want to introduce nature phenomenon to their children, after all. As an alternative, tourists can take advantage of the serenity of the island for relaxation and snorkeling. Thanks to its pristine beach and peaceful landscape.
The Nuance
Sangalaki Island is uninhabited. Only several resorts and guard posts are available there. No wonder, the nuance is desolated but comfortable. In its coastal area, the sand has a soft texture and creamy color. Some bushes and trees grow in that location, as well. When it comes to seawater, it is pure and crystal clear! Somehow, it lures tourists to get in and swim in it. What about sea turtles? Apart from regular ones, green sea turtles are also seen on the beach. They come ashore to lay eggs, after all.
Exploring Sea Turtle Conservation
The Island doesn't even have a pier, so any boats have an issue in getting near the island. Despite this weakness, all features in Sangalaki Island are top-notch. Not to mention there is sea turtle conservation there. Well, it is not an official conservation, but the island has helped lots of sea turtles in reproducing. For those who want to witness such nature phenomenon, they need to come in August. Why is that? At that time, hundreds of sea turtles may come ashore to lay eggs. The keepers may take care of the eggs and release hatchlings to the sea when the time has come.
Tourists are allowed to witness the egg-laying process, in fact. The right moment to witness such phenomenon is at night. Due to this reason, it is better to prepare a flashlight beforehand. In the next day, they can visit conservation posts and witness small sea turtles being taken care there. Not to mention they can join the keepers in releasing matured hatchlings to the sea! As long as they have obtained the permission, they are allowed to do almost anything. However, it is better not to litter and cause havoc in the location.
After enjoying good times in such conservation, tourists can do other fun things in Sangalaki Island. It is as simple as enjoying sea scenery. If they are lucky, they might be able to see eagles and biawaks there. As alternatives, they can do water sports like snorkeling, swimming, and diving! Those who don't like swimming can enjoy fishing, instead. Have no worries. The island comes with excellent accommodations and facilities like restaurant, huts, toilets, etc.
Nearby Attractions
Barracuda Point
Coral Garden Diving Spot
Sangalaki Beach
How to Get There
It is easy to reach Sangalaki Island, as tourists need only to head to Derawan Island first. For those coming from Balikpapan City, they can ride local transportation service to Berau District (Tanjung Batu Port). Next, they must rent a boat to Derawan. Another boat is required to reach Sangalaki later.
Where to Stay
Sangalaki Dive Lodge Resort