Learning the History of the Gunung Tabur Kingdom in Berau District, East Kalimantan
---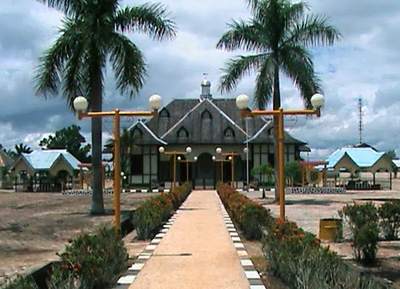 Once tourists have enjoyed island hopping in Derawan Islands, they need to head to Berau District. Why is that? One of the reasons is to learn a valuable history of Gunung Tabur Kingdom. Tourists can even visit a famous reminiscence of such Sultanate, which is located near to Sagan River. A majestic building resides in that location, which is called Gunung Tabur Palace. Another palace is also available near to Kelay River, actually. This one is called Sambaliyung Palace. In order to gather information regarding the history of Berau, tourists can take advantage of either a tour guide or the locals. Overall, historical tourism is quite worthy!
The Nuance
Berau District holds lots of stories back then. No wonder, many tourists decide to come to the location to learn about them. Those who are interested in history, they can explore all parts of the region, especially in Batiwakkal Museum. As an alternative, they must visit Sambaliyung Palace! Both of those sites are worth a visit, after all. Not to mention each of them stores valuable items that are related to Gunung Batur Sultanate. It gives an opportunity to visitors to take pictures of those items, as well.
Exploring Berau District
The most important thing to do in Berau District is to learn its history. The locals may tell visitors about Gunung Tabur Sultanate, as well. According to history, Gunung Tabur and Sambaliyung were fractions of Berau Kingdom. The separation was caused by the Dutch, actually. In the past, the invader applied "devide et empera" in order to weaken local kingdom. The purpose was to take over nature resources in Berau. At the same time, Islam entered Berau and it had a wonderful acceptance among the locals.
A tour guide might also tell about the invasion of Japan in Berau District. It was in Teluk Bayur and the Nippon took over other strategic areas like Gunung Tabur, Tanjung Redeb, and Sambaliung. For some tourists, all of those stories seem uninteresting. However, the others may consider them valuable. Even some historians often come to Berau for gathering more information about its history. As an alternative, tourists can use their camera and take some pictures of all historical items, including those that are stored in Batiwakkal Museum.
At the end of the adventure, tourists can visit beautiful tourist spots nearby. For those who love snorkeling, they must head to Kaniungan Island. Sulaiman Bay and Labuan Cermin Lake are also suitable for water sports! With all these options, no one may regret visiting Berau District. Not only they have the chance to learn local history, but they can relax in many stunning tourist objects. Not to mention the cost in exploring Berau is quite affordable, as long as they don't come during the high season.
Nearby Attractions
Batiwakkal Museum
Sambaliyung Palace
Siraja Museum
How to Get There
For outsiders, the first destination is Sultan Aji Sulaiman Airport, which is located in Balikpapan City. Once they get there, the next trip is by local transportation service and it takes about 13-14 hours, depending on the traffic. The distance between Balikpapan City and Berau District is 564.1 km, after all. When it comes to the best route, tourists can use Ahmad Yani Street.
Where to Stay
Palmy Hotel
Grand Parama Hotel
Derawan Indah Hotel

Latest News
Sangalaki Island is a small island covering an area of 15.9 hectares. This island is one of the islands that are part of Derawan Archipelago. Derawan Islands is a group of islands famous in the world. Aside from Sangalaki Island, another famous island of Derawan Islands are Kakaban and Derawan Island. Sangalaki Island located in the waters of the northern peninsula of Berau. Administratively, Sangalaki Island located in Berau Regency of East Kalimantan Province. Most sea turtles in the world are an endangered species. That includes species hawksbill and green…
---
  Maratua island is one of the outer islands in Indonesia that located in Sulawesi Ocean and it bordered with Malaysia. Maratua island is administratively located on Berau regency, East Kalimantan. Maratua is a small and long island, and it has sharply curve at the edge and it located at the south side of Tarakan city. Maratua Island is also part of Derawan Islands.   By the strategic location and the richness of its marine, Maratua island is now popular by the Travelers from many countries. The tourists who give…
---
Bangkirai Hill Bukit Bangkirai is a natural tourism area which is managed by PT. Inhutani I Unit I Balikpapan. This tourist area is located in Samboja District, Kutai regency, East Kalimantan. Bangkirai hill can be reached by traveling overland for 1.5 hours from the city of Balikpapan. This tour offers the charm of a tropical rain forest that is still natural, and facilitated with some infrastructures like restaurants, hall for meetings, a swimming pool and jungle cottage or cabin. In this area there is a canopy bridge along 64 m…
---
Bontang Bontang is a city in East Kalimantan province, Indonesia. The city is located about 120 kilometers from Samarinda, directly have border to the East Kutai regency in the north and west, Kutai Kartanegara regency in the south and Regency Makassar Strait in the east. In this city stand three large companies in different fields, Badak NGL (natural gas), East Kalimantan Fertilizer (fertilizer and ammonia), and Indominco Mandiri (Coal) and has a petrochemical industrial area called the Kaltim Industrial Estate. Bontang city itself is oriented in the industrial, services and…
---