Island Hopping in Derawan Archipelago, East Kalimantan Province
---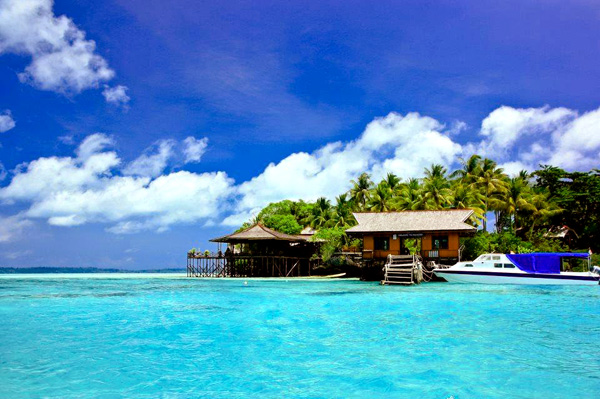 Many travelers have recognized the fame of Derawan Archipelago, which is located in East Kalimantan Province. Featuring beautiful islands, it becomes a suitable destination for island hopping. It consists of 3 sub-districts, actually. These include Biduk-Biduk, Maratua, and Derawan Island. All of them are worth to visit! When it comes to islands, the most famous ones are Maratua, Kakaban, Sangalaki, and Derawan. These are the prime destinations, where travelers enjoy island hopping. People also come to those stunning islands for witnessing rare nautical creatures like hawksbill and green sea turtles!
The Nuance
Geographically, Derawan Archipelago is situated in the north of Berau District. Apart from the major islands mentioned before, it also consists of several shoals, especially Gosong Muaras. It also has numerous ecosystems like mangroves, sea grasses, and corals. When it comes to sea creatures, tourists can meet dolphins, whales, hawksbill sea turtles, barracudas, dugongs, green sea turtles, and more. Some parts of the islands are also suitable for witnessing a natural phenomenon such as a turtle egg-laying process. Next, it is related to accommodations. Derawan Archipelago provides many options of resorts, which are cheaper than those of Bali and Lombok Island!
Exploring Derawan Archipelago
The main island to visit is definitely Derawan. It is the best place to find a resort and other facilities, in fact. Not to mention it becomes a checkpoint before exploring other islands in Derawan Archipelago. So, what can tourists do in that location? In the morning, they must visit Derawan Beach! It is the best attraction in such island, after all. At night, they can take an opportunity to witness some sea turtles laying their eggs on the beach. This is a unique phenomenon, so everyone should never miss it.
In the next morning, tourists can start their island hopping adventure. The prime destinations are definitely Maratua, Kakaban, and Sangalaki Island. Though, travelers can include more destinations that they like. The thing is they need to spend more money for more islands they are going to visit. Sangalaki Island is famous for its white sandy beach and sea turtle conservation. It also becomes a good spot for relaxing due to the presence of Sangalaki Dive Lodge. Plus, many travelers visit it to conduct snorkeling, swimming, and diving. Therefore, tourists should not forget to carry their snorkel gear or diving equipment.
The next recommended adventure is to visit Kakaban Island. Why is that? It is the home of a famous lake with its stingless jellyfishes. Even visitors are allowed to swim in it! Despite the difficult route, the lake is worth an exploration. In a nutshell, island hopping in Derawan Archipelago gives many options for vacation destinations. Visitors only need to gather information regarding the available islands, speedboat services, and costs. When it comes to the best weather, they must come between November and January!
Nearby Attractions
Derawan Island
Kakaban Island
Maratua Island
Sangalaki Island
Gosong Muaras
How to Get There
For outsiders, they need to take an airplane to Sultan Aji Muhammad Sulaiman Airport, which resides in Balikpapan City. From there, they can ride a local transportation service to Tanjung Redeb (Berau District). What they need is a boat, so they must head to nearby port. From Tanjung Batu Port, their first checkpoint is Derawan Island! Later, they can take other boat services to explore the archipelago.
Where to Stay
Derawan Dive Resort
Fisheries Eco Villa
Derawan Dive Lodge
Berto House

Latest News
Sangalaki Island is a small island covering an area of 15.9 hectares. This island is one of the islands that are part of Derawan Archipelago. Derawan Islands is a group of islands famous in the world. Aside from Sangalaki Island, another famous island of Derawan Islands are Kakaban and Derawan Island. Sangalaki Island located in the waters of the northern peninsula of Berau. Administratively, Sangalaki Island located in Berau Regency of East Kalimantan Province. Most sea turtles in the world are an endangered species. That includes species hawksbill and green…
---
  Maratua island is one of the outer islands in Indonesia that located in Sulawesi Ocean and it bordered with Malaysia. Maratua island is administratively located on Berau regency, East Kalimantan. Maratua is a small and long island, and it has sharply curve at the edge and it located at the south side of Tarakan city. Maratua Island is also part of Derawan Islands.   By the strategic location and the richness of its marine, Maratua island is now popular by the Travelers from many countries. The tourists who give…
---
Bangkirai Hill Bukit Bangkirai is a natural tourism area which is managed by PT. Inhutani I Unit I Balikpapan. This tourist area is located in Samboja District, Kutai regency, East Kalimantan. Bangkirai hill can be reached by traveling overland for 1.5 hours from the city of Balikpapan. This tour offers the charm of a tropical rain forest that is still natural, and facilitated with some infrastructures like restaurants, hall for meetings, a swimming pool and jungle cottage or cabin. In this area there is a canopy bridge along 64 m…
---
Bontang Bontang is a city in East Kalimantan province, Indonesia. The city is located about 120 kilometers from Samarinda, directly have border to the East Kutai regency in the north and west, Kutai Kartanegara regency in the south and Regency Makassar Strait in the east. In this city stand three large companies in different fields, Badak NGL (natural gas), East Kalimantan Fertilizer (fertilizer and ammonia), and Indominco Mandiri (Coal) and has a petrochemical industrial area called the Kaltim Industrial Estate. Bontang city itself is oriented in the industrial, services and…
---