Besing Island in Gunung Tabur Sub-District, East Kalimantan Province
---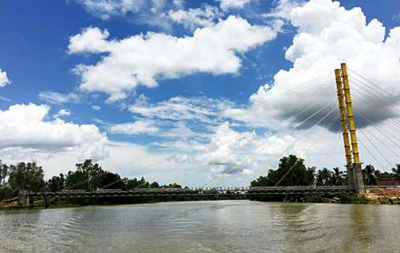 One of the islands in Derawan Archipelago is called Besing and it belongs to Gunung Tabur Sub-district. The island is located near to Berau River, as well. Besing is considered an inhabited island, actually. Regarded as a good destination to explore mangroves and local primates, the island keeps attracting many visitors. Mostly, tourists come to the island to take pictures of nature attractions like mangroves, Bekantan (Proboscis Monkey), and many others. Tourists can even enjoy a boat riding in the river while witnessing lush nature of Besing! Overall, it provides an amazing adventure experience to everyone.
The Nuance
As mentioned before, Besing Island is famous for its mangroves and other vegetation. No wonder, many animals live comfortably there, especially Bekantan. They live freely in the forest and they might come out every morning and afternoon. Their favorite spot to hang out is on trees and mangroves, which are located near to Berau River. They are not even afraid of the presence of humans. That means tourists can take pictures of those animals without hassles. Their appearance is unique, as their nose is similar to a small Papaya. Their fur color is beautiful, as well.
Exploring Besing Island
For those visiting the island, it is recommended to rent a tour guide. He even provides a boat to tourists, so everyone can explore Berau River while witnessing Bekantan. The guide may tell them about the history of the monkey, too. They have been there for decades and become both an attraction and trouble to people. The reason is because some of them often come to local villages and steal fruits! Despite their notoriety, they are quite charming. There is even a local name for it, which is "Monyet Belanda". Local people also consider it as an icon of Gunung Tabur Sub-district. Even though the popularity is not the same as that of Tarakan, it remains famous among tourists.
Visitors have different opinions regarding Besing Island's Bekantan. Some of them consider the monkeys cute, while the others consider them ugly. Perhaps it is because of their uncommon nose, which is quite big. Due to its uniqueness, though, photographers often come and explore the island to capture beautiful pictures of those primates. Not only photographers, regular tourists can also get closer to those animals easily.
So, what are the other attractions? Apart from witnessing Bekantan and explore the mangrove forest, visitors should visit Besing Bridge. For villagers, the presence of such bridge is quite significant. It helps them to reach Tanjung Redeb easily. For tourists, the bridge becomes a good spot for sightseeing and photography. The best time to visit the location is either in the morning or afternoon, actually. Those times are great to witness either the sunrise or sunset. Don't forget to carry a camera, too.
Nearby Attractions
Berau River
Tanjung Redeb Sub-district
Gunung Tabur Museum
How to Get There
The prime destination is Sultan Aji Muhammad Airport, which is located in Balikpapan City. From there, tourists can simply take a local transportation service to Gunung Tabur Sub-district, which takes about 16 hours and 30 minutes. The distance between Balikpapan and the last destination is 751.2 km, actually. When it comes to the best route, tourists should choose Ahmad Yani Street.
Where to Stay
Herlina Hotel
Moroseneng Hotel
Millenium Berau Hotel
Bumi Segah Hotel

Latest News
Sangalaki Island is a small island covering an area of 15.9 hectares. This island is one of the islands that are part of Derawan Archipelago. Derawan Islands is a group of islands famous in the world. Aside from Sangalaki Island, another famous island of Derawan Islands are Kakaban and Derawan Island. Sangalaki Island located in the waters of the northern peninsula of Berau. Administratively, Sangalaki Island located in Berau Regency of East Kalimantan Province. Most sea turtles in the world are an endangered species. That includes species hawksbill and green…
---
  Maratua island is one of the outer islands in Indonesia that located in Sulawesi Ocean and it bordered with Malaysia. Maratua island is administratively located on Berau regency, East Kalimantan. Maratua is a small and long island, and it has sharply curve at the edge and it located at the south side of Tarakan city. Maratua Island is also part of Derawan Islands.   By the strategic location and the richness of its marine, Maratua island is now popular by the Travelers from many countries. The tourists who give…
---
Bangkirai Hill Bukit Bangkirai is a natural tourism area which is managed by PT. Inhutani I Unit I Balikpapan. This tourist area is located in Samboja District, Kutai regency, East Kalimantan. Bangkirai hill can be reached by traveling overland for 1.5 hours from the city of Balikpapan. This tour offers the charm of a tropical rain forest that is still natural, and facilitated with some infrastructures like restaurants, hall for meetings, a swimming pool and jungle cottage or cabin. In this area there is a canopy bridge along 64 m…
---
Bontang Bontang is a city in East Kalimantan province, Indonesia. The city is located about 120 kilometers from Samarinda, directly have border to the East Kutai regency in the north and west, Kutai Kartanegara regency in the south and Regency Makassar Strait in the east. In this city stand three large companies in different fields, Badak NGL (natural gas), East Kalimantan Fertilizer (fertilizer and ammonia), and Indominco Mandiri (Coal) and has a petrochemical industrial area called the Kaltim Industrial Estate. Bontang city itself is oriented in the industrial, services and…
---