Haji Buang Lake in Maratua Island, Derawan Archipelago
---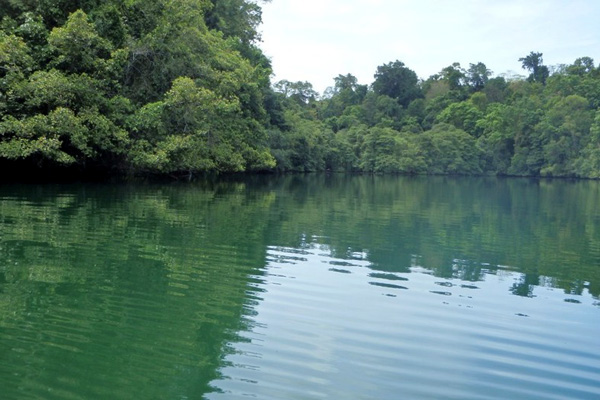 Maratua becomes many tourists' favorite. What is the reason? It is likely visitors are mesmerized by pristine nature and flawless beauty of the island. When it is about nature tourism, Maratua Island offers a nice tourist spot called Haji Buang Lake. Why is the name, actually? The locals named it, which is based on the founder (Haji Buang). Today, it becomes a good spot for witnessing pure nature with its serene lake water. The fact is that people also come to the location for swimming and photography.
The Nuance
In terms of size, Haji Buang Lake is considered moderate. Still, it is wide enough for swimming. The color of the water is green and it feels cold in the morning. Due to this reason, people are recommended to swim at noon, when the temperature is warmer. The fact is the lake is surrounded by bushy vegetation. Many trees also grow there. These features bring a comfortable atmosphere to the location, for sure. No wonder, visitors take advantage of such condition for relaxing. They also bring a camera to capture stunning views of the lake and its surrounding.
Exploring Haji Buang Lake
The lake is situated near to Payung-Payung Village. Its serenity never fails to amaze tourists, as well. Thanks to the lush forest. Tourists have an opportunity to conduct trekking when reaching the location. Not to mention there is a local coconut plantation with its dense trees. The fact is visitors need to pass through all of those landscapes in order to reach the lake. Approximately, it may take 20-30 minutes by walking. As an alternative, they can ride a boat from Lawang-Lawang. Some people consider it less interesting, though.
Once they reach Haji Buang Lake, they can enjoy its refreshing atmosphere and mesmerizing nature views. Many types of flora and fauna are also seen there. Plus, the lake is famous for its jellyfishes. Just like those of Kakaban Lake, the jellyfishes are stingless so they cause no harm to tourists. That means swimming is a recommended activity in the lake. The comfortable water and beautiful jellyfishes are quite luring, after all. On top of that, the lake is surrounded by dense trees, providing comfort and serenity to swimmers.
Here is a question. Do tourists need to hire a tour guide? Usually, it costs nothing. Though, it is better to pay some money to the guide, especially for those who come in a group. This person might help tourists in reaching the lake efficiently and ask for permission for swimming, after all. That means his help is quite significant. Later, he can even help tourists to talk to villagers and get free local foods or an accommodation.
Nearby Attractions
Payung-Payung Village
Tanah Bamban Lake
Kakaban Island
Semut Island
How to Get There
Many checkpoints are included in reaching Haji Buang Lake. From Balikpapan, travelers need to rent a boat in Tanjung Batu Port (Berau District). The first destination is Derawan Island. Later, they can take another boat and head to Maratua Island. From there, their next destination is Payung-Payung Village. Another trip requires trekking for 20 minutes in reaching the lake. That's it.
Where to Stay
Maratua Paradise Resort
Atia Hotel

Latest News
Sangalaki Island is a small island covering an area of 15.9 hectares. This island is one of the islands that are part of Derawan Archipelago. Derawan Islands is a group of islands famous in the world. Aside from Sangalaki Island, another famous island of Derawan Islands are Kakaban and Derawan Island. Sangalaki Island located in the waters of the northern peninsula of Berau. Administratively, Sangalaki Island located in Berau Regency of East Kalimantan Province. Most sea turtles in the world are an endangered species. That includes species hawksbill and green…
---
  Maratua island is one of the outer islands in Indonesia that located in Sulawesi Ocean and it bordered with Malaysia. Maratua island is administratively located on Berau regency, East Kalimantan. Maratua is a small and long island, and it has sharply curve at the edge and it located at the south side of Tarakan city. Maratua Island is also part of Derawan Islands.   By the strategic location and the richness of its marine, Maratua island is now popular by the Travelers from many countries. The tourists who give…
---
Bangkirai Hill Bukit Bangkirai is a natural tourism area which is managed by PT. Inhutani I Unit I Balikpapan. This tourist area is located in Samboja District, Kutai regency, East Kalimantan. Bangkirai hill can be reached by traveling overland for 1.5 hours from the city of Balikpapan. This tour offers the charm of a tropical rain forest that is still natural, and facilitated with some infrastructures like restaurants, hall for meetings, a swimming pool and jungle cottage or cabin. In this area there is a canopy bridge along 64 m…
---
Bontang Bontang is a city in East Kalimantan province, Indonesia. The city is located about 120 kilometers from Samarinda, directly have border to the East Kutai regency in the north and west, Kutai Kartanegara regency in the south and Regency Makassar Strait in the east. In this city stand three large companies in different fields, Badak NGL (natural gas), East Kalimantan Fertilizer (fertilizer and ammonia), and Indominco Mandiri (Coal) and has a petrochemical industrial area called the Kaltim Industrial Estate. Bontang city itself is oriented in the industrial, services and…
---