Sangalaki Island in Berau District, East Kalimantan Province
---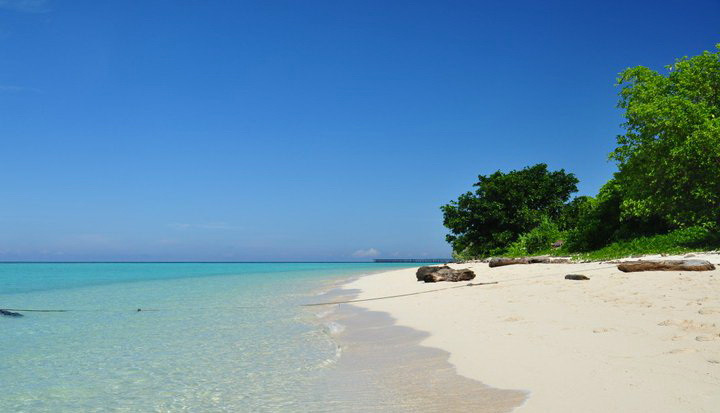 Indonesia never ceases to amaze travelers, as it has tons of tourist attractions to explore. Located in East Kalimantan Province, Derawan Archipelago becomes a significant tourist spot for everyone. It consists of beautiful islands, including Sangalaki. Most of the visitors are interested in exploring the island due to its diving spot potentials. The fact is many options of diving spots are available there. The best attraction is the formation of manta rays that appear during the full moon. Not to mention beautiful small fishes are scattered in all parts of the sea. Simply put, Sangalaki Island is a divers' paradise!
The Nuance
The size of the island reaches up to 15.9 hectares and it consists of sloping beaches. The island also features a famous lagoon, surrounded by sea grasses and corals! When it comes to shorelines, the width is around 14 meters and it is made of coral fragments. That means beach walking is not recommended, as the sand is a bit rough. As an alternative, tourists can enjoy diving wholeheartedly. Also, they can simply enjoy sightseeing on the wooden pier. That location is suitable for fishing either. In the back, lush trees cover most parts of the island. They create a shady nuance, so tourists can avoid the heat of the sun well.
Exploring Sangalaki Island
One of the reasons in visiting the island is its diving spots. Tourists are interested in trying all of them regardless of their skills. The fact is the options are too many, so visitors need to learn a bit about them. When it comes to the best options, they have Coral Gardens, Manta Parade, The Rockies, Eel Ridge, Sandy Ridge, Sherwood Forest, Turtle Town, Lighthouse, Channel Entrance, and much more. In order to get information about those diving spots, tourists can talk to their tour guide or nearby resorts. Some instructors are even available there.
The best attraction during diving is definitely the formation of manta rays. Their size gets up to 7 meters! However, those that live near to Sangalaki Island have a smaller size, reaching only 5 meters. They are called Coral Mantas, actually. Still, such animals appear quite majestic and never fail to impress all divers. It is even possible to take pictures of those sea creatures, but divers are not recommended to get too close to them. It is because their size is quite enormous!
Apart from diving, Sangalaki Island is famous for its sea turtles conservation. Both the facility and condition are excellent, so visitors can explore the location in a comfortable manner. Due to the presence of such conservation, tourists would meet lots of numbers of sea turtles, even on the beach. As for the tip, it is better to explore the beach at night. Why is that? At that time, sea turtles are likely to lay eggs on the sand. Such attraction is indeed attractive! Their numbers even increase during the high tide.
Nearby Attractions
Sangalaki Nature Park Tourism
Kakaban Island
Maratua Island
How to Get There
First, tourists need to take an airplane to Balikpapan. The next destination is either Berau District or Tarakan City. From Berau, people can simply take a local transportation service to Tanjung Batu Port and rent a speedboat to Derawan Island. Another boat ride is needed and the destination is Sangalaki Island. It takes some time, though.
Where to Stay
Maratua Paradise Resort
Fisheries Eco Villa
Noah Maratua Resort