Sambaliung Palace in Berau District, East Kalimantan Province
---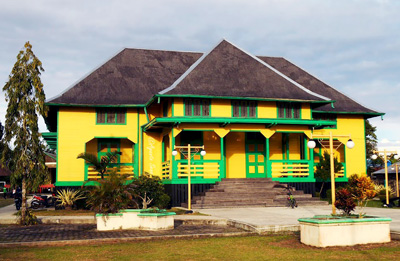 After exploring Derawan Islands, the next adventure will be in several regions of Berau District. A vacation doesn't have to involve nature all the times because tourists can enjoy both history and culture as well. As for the reference, there is Sambaliung Palace, which is located in Sambaliung Sub-district. It is the reminiscence of the Tanjung Kingdom, which was once the part of Berau Sultanate. The site is suitable for those who like culture tours. The building has been there since 1881 and it retains its design until now. Today, it becomes a recommended tourist spot for those visiting Berau District.
The Nuance
Sambaliung Palace is located near to Kelay River. Due to its unique Chinese architecture, tourists can easily notice it. The building is made of ironwood, which is strong and durable. Now wonder it remains in a good condition despite its age. Inside the palace, there are 12 bedrooms and 1 main room. Such main room is located in the midst of the building and it is used for traditional ceremonies. That room is also used as a place to give a nobility status to someone. In its terrace, there are some parks and a gate.
Exploring Sambaliung Palace
The question is what tourists can do in Sambaliung Palace. The building displays historical items of Sambaliung Sultanate like an inscription monument made of ironwood. Such inscription was written in Arabic and Malayan letters, which are quite interesting. It tells the rules of Sultan's attitude when sitting in front of a house. Apart from the epigraph, there are two monuments featuring Lontara scripts, which belong to Bugis Tribe. These monuments are located in front of the palace. Tourists are allowed to take pictures of those monuments, as long as they have obtained permission from the keepers.
The next attraction is the presence of a giant crocodile! It is not alive, though. Such preserved crocodile has the length of 4 meters and is kept in a glass aquarium. The thing is no accurate information or details regarding that majestic creature. Still, it becomes a perfect object for photography. The size itself is jaw-dropping! Not to mention it comes with scary teeth and a majestic pose. Unfortunately, visitors are not allowed to touch it. The crocodile is kept well in the glass in order to retain its condition.
What's next? Sambaliung Palace also becomes a place to enjoy traditional dances and ceremonies. The most famous one is Jepen Dance. Sometimes, local artists also perform Mamanda and poetry chanting. There is even a cultural feast, which is done by the royal family. The most common one is a traditional wedding. For tourists, all of those attractions can be seen during special moments. Therefore, it is better to review the schedules prior to visiting the palace.
Nearby Attractions
Kelay River
Rantau Panjang Waterfall
Nyapa Indah Village
How to Get There
It is easy to reach Sambaliung Palace. First, travelers need to reach Tanjung Redeb, which is the capital of Berau District. The best transportation is an airplane and the destination is Kalimarau Airport. From there, tourists can simply take local transportation service to Sambaliung Sub-district. The palace resides near to Kelay River and numerous facilities like eateries and shops.
Where to Stay
Bumi Segah Hotel
Cantika Swara Hotel
Grand Parama Hotel

Latest News
Sangalaki Island is a small island covering an area of 15.9 hectares. This island is one of the islands that are part of Derawan Archipelago. Derawan Islands is a group of islands famous in the world. Aside from Sangalaki Island, another famous island of Derawan Islands are Kakaban and Derawan Island. Sangalaki Island located in the waters of the northern peninsula of Berau. Administratively, Sangalaki Island located in Berau Regency of East Kalimantan Province. Most sea turtles in the world are an endangered species. That includes species hawksbill and green…
---
  Maratua island is one of the outer islands in Indonesia that located in Sulawesi Ocean and it bordered with Malaysia. Maratua island is administratively located on Berau regency, East Kalimantan. Maratua is a small and long island, and it has sharply curve at the edge and it located at the south side of Tarakan city. Maratua Island is also part of Derawan Islands.   By the strategic location and the richness of its marine, Maratua island is now popular by the Travelers from many countries. The tourists who give…
---
Bangkirai Hill Bukit Bangkirai is a natural tourism area which is managed by PT. Inhutani I Unit I Balikpapan. This tourist area is located in Samboja District, Kutai regency, East Kalimantan. Bangkirai hill can be reached by traveling overland for 1.5 hours from the city of Balikpapan. This tour offers the charm of a tropical rain forest that is still natural, and facilitated with some infrastructures like restaurants, hall for meetings, a swimming pool and jungle cottage or cabin. In this area there is a canopy bridge along 64 m…
---
Bontang Bontang is a city in East Kalimantan province, Indonesia. The city is located about 120 kilometers from Samarinda, directly have border to the East Kutai regency in the north and west, Kutai Kartanegara regency in the south and Regency Makassar Strait in the east. In this city stand three large companies in different fields, Badak NGL (natural gas), East Kalimantan Fertilizer (fertilizer and ammonia), and Indominco Mandiri (Coal) and has a petrochemical industrial area called the Kaltim Industrial Estate. Bontang city itself is oriented in the industrial, services and…
---