Biatan (Pemapak) Hotspring in Biantan Bapinang Sub-district, Berau District
---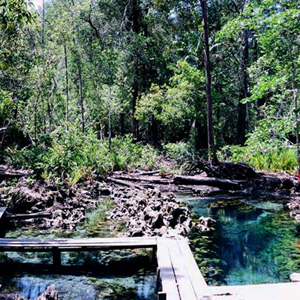 Berau District is indeed famous for its Derawan Archipelago. Though, tourists should also consider visiting other nature attractions in such region. For example, there is Biatan Hotspring in Biatan Bapinang Sub-district. It is actually a small lake with hot water and tourists come to the location to relax and enjoy its comfy water. The locals choose it as a favorite place for relaxation, in fact. Recently, some outsiders and foreigners also come there. That means the popularity of the hot spring has been recognized well by travelers, especially those who are going to visit Derawan Islands.
The Nuance
The size of Biatan Hotspring is not quite wide, but it can accommodate tens visitors. The water is clear and it features some unique stones. Not to mention the location is surrounded by lush trees and vegetation. This explains why the environment is cold and refreshing. Despite the cold nuance, the water feels warm and rejuvenating. Here is the unique thing about the hot spring. The water is salty! Also, the bottom of the hot spring features many stones and some plants. These combine into a natural and beautiful environment, which satisfies all visitors.
Exploring Biatan Hotspring
One of the reasons in visiting the hot spring is its fun trip. The fact is tourists must pass through a forest and a desolate street. A route to the location is quite challenging, as well. Despite the fact, tourists are likely to enjoy the trip, especially if they come with a good driver. Once they get to the hot spring, all of their tiredness would go away in an instant! Thanks to the comfortable nuance and unspoiled nature. The dense trees and clean environment can eradicate tourists' stresses, too. It even feels better when they get in the water.
Taking a bath in Biatan Hotspring is allowed as long as tourists obey the rules. No soap is allowed and visitors must take care of the environment well. That means littering is prohibited! The good thing is there is no fee to enjoy the hotspring. It is because the local government has built facilities yet. No wonder, there is no place for undressing, eating, or resting. What tourists need to do is to prepare extra clothes and some snacks prior to visiting the site.
According to the locals, Biatan Hotspring was founded by villagers in 2012. It has become a new tourist spot in Berau District since then. With its natural and poor facility, the site doesn't lose its charm. Instead, it attracts more visitors from nearby regions and even from outside Kalimantan Island. Moreover, the water is comfortable, as it doesn't emit the smell of sulfur. The site definitely becomes a recommended choice for those looking for both comfort and relaxation, doesn't it?
Nearby Attractions
Biatan Bapinang Village
Talisayan Village
Whale-Shark Point
How to Get There
For outsiders, they can either come to Balikpapan City or Berau District. The second option is faster, actually. Travelers only need to take an airplane to Kalimarau Airport in Berau. Next, they can take any local transportation service to Biatan Bapinang Sub-district, which takes about 3 hours. The route passes through Tanjung Redeb, Sambaliug, and Tambaran.
Where to Stay
Aneka Hotel

Latest News
Sangalaki Island is a small island covering an area of 15.9 hectares. This island is one of the islands that are part of Derawan Archipelago. Derawan Islands is a group of islands famous in the world. Aside from Sangalaki Island, another famous island of Derawan Islands are Kakaban and Derawan Island. Sangalaki Island located in the waters of the northern peninsula of Berau. Administratively, Sangalaki Island located in Berau Regency of East Kalimantan Province. Most sea turtles in the world are an endangered species. That includes species hawksbill and green…
---
  Maratua island is one of the outer islands in Indonesia that located in Sulawesi Ocean and it bordered with Malaysia. Maratua island is administratively located on Berau regency, East Kalimantan. Maratua is a small and long island, and it has sharply curve at the edge and it located at the south side of Tarakan city. Maratua Island is also part of Derawan Islands.   By the strategic location and the richness of its marine, Maratua island is now popular by the Travelers from many countries. The tourists who give…
---
Bangkirai Hill Bukit Bangkirai is a natural tourism area which is managed by PT. Inhutani I Unit I Balikpapan. This tourist area is located in Samboja District, Kutai regency, East Kalimantan. Bangkirai hill can be reached by traveling overland for 1.5 hours from the city of Balikpapan. This tour offers the charm of a tropical rain forest that is still natural, and facilitated with some infrastructures like restaurants, hall for meetings, a swimming pool and jungle cottage or cabin. In this area there is a canopy bridge along 64 m…
---
Bontang Bontang is a city in East Kalimantan province, Indonesia. The city is located about 120 kilometers from Samarinda, directly have border to the East Kutai regency in the north and west, Kutai Kartanegara regency in the south and Regency Makassar Strait in the east. In this city stand three large companies in different fields, Badak NGL (natural gas), East Kalimantan Fertilizer (fertilizer and ammonia), and Indominco Mandiri (Coal) and has a petrochemical industrial area called the Kaltim Industrial Estate. Bontang city itself is oriented in the industrial, services and…
---