Maratua Island in Berau District, East Kalimantan Province
---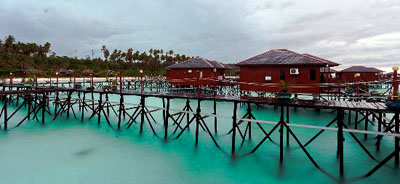 Regarded as a small archipelago, Derawan starts attracting lots of tourists. One of its islands is called Maratua and it is considered as an outer island of the nation. It is located near to Malaysia and Sulawesi Sea, in fact. Still, it belongs to Berau District. To be exact, it is situated in the south of Tarakan City. The question is what makes it popular among tourists. It can be due to its resort and pristine nature. Mostly, people come to the island to find peace and enjoy its serene nuance.
The Nuance
Maratua is a small and curvy island. Due to its unspoiled nature, the ambiance is quite calming. Many types of trees grow abundantly on the island, especially coconut trees. All of them make a shady atmosphere, so visitors can rest under them comfortably. What's next? The top feature of the island is its resort that comes with a beautiful architecture. In fact, it provides floating rooms with an access to the sea. Not to mention it is located near to a beautiful beach with its white sand. The water is calm and warm, as well.
Exploring Maratua Island
In a nutshell, the island is suitable for a vacation retreat. That means tourists come to Maratua in order to get rid of their stresses they got from a busy city life. Spending several days in the resort and enjoying beautiful sea scenery are indeed rejuvenating. Plus, they have the chance to explore all parts of the island by walking. The lush nature and gusty wind never fail to amaze visitors, after all. For those who love photography, many stunning objects are available to get captured, including trees, beaches, boats, sky, etc.
People also come to Maratua Island for diving. Apart from local divers, some foreigners are also interested in exploring the sea near to the island. The thing is the sea creatures and corals are not as abundant as those of Derawan Island. Despite the fact, people won't regret getting in the water either to do snorkeling or diving. Another consideration is related to the equipment. It is better not to prepare diving equipment prior to visiting the island. Also, no instructors are available in Maratua, so beginners should come with experienced companions!
Once they enjoy diving, the next activity is an exploration. According to the locals, Maratua Island is the home of caves and lakes. All of them are worth a visit, for sure. Among those attractions, the most popular one is a lake with freshwater jellyfishes. If this isn't enough, tourists can head conduct snorkeling in the morning. At the time, they are likely to meet beautiful white manta rays and lionfishes underwater. Another attraction is the sea turtles that appear either in the morning or afternoon. They can be found at the beach, actually.
Nearby Attractions
Haji Buang Lake
Tanah Bamban Lake
Kakaban Island
How to Get There
In order to reach Maratua Island, travelers need to go to Derawan Island first. From there, the next destination is Tanjung Batu Port and takes a boat to Maratua. This only takes about 1 hour as the distance is not quite far. Once they reach Maratua, they can directly rent a resort room and get prepared to explore the island!
Where to Stay
Maratua Paradise Resort
Atia Hotel

Latest News
Sangalaki Island is a small island covering an area of 15.9 hectares. This island is one of the islands that are part of Derawan Archipelago. Derawan Islands is a group of islands famous in the world. Aside from Sangalaki Island, another famous island of Derawan Islands are Kakaban and Derawan Island. Sangalaki Island located in the waters of the northern peninsula of Berau. Administratively, Sangalaki Island located in Berau Regency of East Kalimantan Province. Most sea turtles in the world are an endangered species. That includes species hawksbill and green…
---
  Maratua island is one of the outer islands in Indonesia that located in Sulawesi Ocean and it bordered with Malaysia. Maratua island is administratively located on Berau regency, East Kalimantan. Maratua is a small and long island, and it has sharply curve at the edge and it located at the south side of Tarakan city. Maratua Island is also part of Derawan Islands.   By the strategic location and the richness of its marine, Maratua island is now popular by the Travelers from many countries. The tourists who give…
---
Bangkirai Hill Bukit Bangkirai is a natural tourism area which is managed by PT. Inhutani I Unit I Balikpapan. This tourist area is located in Samboja District, Kutai regency, East Kalimantan. Bangkirai hill can be reached by traveling overland for 1.5 hours from the city of Balikpapan. This tour offers the charm of a tropical rain forest that is still natural, and facilitated with some infrastructures like restaurants, hall for meetings, a swimming pool and jungle cottage or cabin. In this area there is a canopy bridge along 64 m…
---
Bontang Bontang is a city in East Kalimantan province, Indonesia. The city is located about 120 kilometers from Samarinda, directly have border to the East Kutai regency in the north and west, Kutai Kartanegara regency in the south and Regency Makassar Strait in the east. In this city stand three large companies in different fields, Badak NGL (natural gas), East Kalimantan Fertilizer (fertilizer and ammonia), and Indominco Mandiri (Coal) and has a petrochemical industrial area called the Kaltim Industrial Estate. Bontang city itself is oriented in the industrial, services and…
---