Semut Island in Maratua Sub-District, East Kalimantan Province
---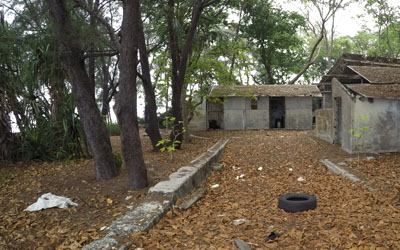 It is true Derawan Archipelago becomes more famous over time. It is because all travelers start recognizing the fun in exploring all the islands in such region. In Maratua Sub-district, they can even find a unique isle called Semut. It means "Ant". Perhaps it was inspired by either its small size or the presence of ants on the island. The location is within Maratua Bay and it belongs to Berau District, actually. Despite the small size, the locals have been using the island as a burial site for more than a hundred years.
The Nuance
In terms of landscape, the island features mostly of sand and some trees. Here is the sad truth. Semut Island isn't likely to survive for a long time due to natural erosion and abrasion. Despite the fact, tourists keep coming to the location to enjoy its pristine nuance and local's life. Near to the coastal area, some villagers are seen, looking for cockles. Tourists are even allowed to join such activity! As an alternative, they can simply relax at the beach and witness flawless sea scenery and feel the white sand.
Exploring Semut Island
The best thing to do in Semut Island is to explore the beach. As mentioned before, some locals often come to the coast to look for fishes and cockles. Somehow, it becomes an interesting view, so tourists can conduct photography there. As an alternative, they can simply sit nearby and enjoy flawless views of the sea. The wind feels so rejuvenating, as well. This nuance might eradicate their stresses immediately, for sure. That means Semut can be a perfect location for a vacation retreat, too. With its serene atmosphere, people can find peace and joy simultaneously.
The next adventure is swimming. It is because no one can avoid the lure of crystal clear and warm seawater. The fact is the waves aren't too strong, so beginners can swim safely. For more fun activities, snorkeling is a good idea. Even though the fishes and corals are not as abundant as other islands in Derawan Archipelago, they are worth and exploration. Another consideration is related to snorkeling gear. No facilities provide it to tourists, so everyone must have prepared it beforehand. Have no worries. They can either rent it or buy it in Maratua Island.
Some locals provide accommodations and foods in Semut Island. That means visitors won't find any difficulties to get those necessities. Even prepackaged foods are available in several food stalls and eateries. For the best culinary experience, it is better to come to a nearby island (Maratua). In that location, the option of lodges and resorts are even better. What's next? Another tip is related to weather. The best time to visit the island is during summer or hot season, as tourists can avoid heavy rain.
Nearby Attractions
Maratua Island
Kakaban Islan
How to Get There
Reaching Semut Island involves several types of transportation and checkpoints. First, travelers need to head to Balikpapan City by airplane. Next, they can take a mini bus to Tanjung Batu Port, which is located in Berau District. The next trip involves a boat to Derawan Island and they need to ride a speedboat to Maratua Island. The last destination is Semut Island, which requires another boat.
Where to Stay
Maratua Paradise Resort

Latest News
Sangalaki Island is a small island covering an area of 15.9 hectares. This island is one of the islands that are part of Derawan Archipelago. Derawan Islands is a group of islands famous in the world. Aside from Sangalaki Island, another famous island of Derawan Islands are Kakaban and Derawan Island. Sangalaki Island located in the waters of the northern peninsula of Berau. Administratively, Sangalaki Island located in Berau Regency of East Kalimantan Province. Most sea turtles in the world are an endangered species. That includes species hawksbill and green…
---
  Maratua island is one of the outer islands in Indonesia that located in Sulawesi Ocean and it bordered with Malaysia. Maratua island is administratively located on Berau regency, East Kalimantan. Maratua is a small and long island, and it has sharply curve at the edge and it located at the south side of Tarakan city. Maratua Island is also part of Derawan Islands.   By the strategic location and the richness of its marine, Maratua island is now popular by the Travelers from many countries. The tourists who give…
---
Bangkirai Hill Bukit Bangkirai is a natural tourism area which is managed by PT. Inhutani I Unit I Balikpapan. This tourist area is located in Samboja District, Kutai regency, East Kalimantan. Bangkirai hill can be reached by traveling overland for 1.5 hours from the city of Balikpapan. This tour offers the charm of a tropical rain forest that is still natural, and facilitated with some infrastructures like restaurants, hall for meetings, a swimming pool and jungle cottage or cabin. In this area there is a canopy bridge along 64 m…
---
Bontang Bontang is a city in East Kalimantan province, Indonesia. The city is located about 120 kilometers from Samarinda, directly have border to the East Kutai regency in the north and west, Kutai Kartanegara regency in the south and Regency Makassar Strait in the east. In this city stand three large companies in different fields, Badak NGL (natural gas), East Kalimantan Fertilizer (fertilizer and ammonia), and Indominco Mandiri (Coal) and has a petrochemical industrial area called the Kaltim Industrial Estate. Bontang city itself is oriented in the industrial, services and…
---