Bohesilian Village in Maratua Island, Berau District
---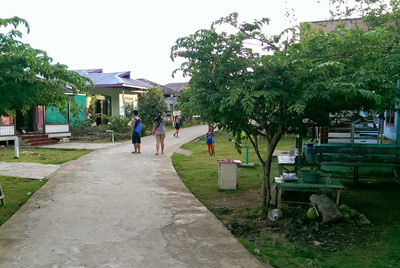 Derawan Archipelago is another amazing location to spend holidays. It is located in Berau District and belongs to East Kalimantan Province. Featuring several big islands, small isles, and shoals, it is a great destination for those who love island hopping, adventure, water sports, and photography. What's more? Derawan is also famous for its culture, as it offers exotic villages to visit. One of them resides in Maratua Island, which is called Bohesilian. It is the oldest village in Maratua Sub-district and becomes a recommended tourist spot to learn its culture and enjoy the nature.
The Nuance
The majority of people who live in Bohesilian Village belong to Bajo Tribe. They came from Sulawesi Island and have been living there for generations. Some of the villagers belong to Bugis Tribe, which also came from Sulawesi. No wonder, most of those people work as a fisherman and several boats are seen there. Despite its traditional way of living, the villagers have built numerous facilities like a football field, mosques, government-mandated community health clinics, and much more. Even it provides different types of transportation services, including ojek (local bike transport) and speedboats.
Exploring Bohesilian Village
What is Bohesilian Village to tourists? Well, it is famous for its simple and peaceful way of living. Visitors can get around the village and enjoy its serenity. The locals live in a humble manner and they have a friendly personality. Even their house looks traditional, which is made of local woods. In front of the house, a small yard with grasses and traditional benches seem alluring. Tourists can also get closer to the natives by visiting their house. Have no worries. It is quite possible, as long as they know how to talk with them.
The next fun activity is to witness locals' activity in the sea. Fishermen only look for fishes when their supply starts to run out. Once they return from fishing, they might sell the fishes and earn more than 20 million from the trade. This amount of money helps them to survive for about one month, actually. Lucky visitors would be able to join those fishermen, looking for fishes in the sea. It is quite rare, though. Fishing is not a recreation for them, so it must be done professionally.
For those who decide to spend the night in Bohesilian Village, they must adapt to its condition. The fact is the village hasn't received enough support from PLN or State's Electricity Company. No wonder, each household owns an electricity generator. Despite such condition, people of Behesilian live happily and in a prosperous way. Thanks to the abundant nautical sources, especially fishes. Recently, tourists also bring prosperity to the village. Some villagers offer a tour guiding service to visitors and earn money from it.
Nearby Attractions
Kakaban Island
Sangalaki Island
Derawan Island
How to Get There
The fastest way to reach the first checkpoint (Berau District) is by airplane. Travelers can take an airplane to Kalimarau Airport in Tanjung Redeb. From there, they can rent a taxi to Tanjung Batu Port, which takes about 2 hours. The next checkpoint is Derawan Island, and tourists can ride a speedboat to reach it. Another boat is needed to reach Maratua Island later.
Where to Stay
Maratua Paradise Resort

Latest News
Sangalaki Island is a small island covering an area of 15.9 hectares. This island is one of the islands that are part of Derawan Archipelago. Derawan Islands is a group of islands famous in the world. Aside from Sangalaki Island, another famous island of Derawan Islands are Kakaban and Derawan Island. Sangalaki Island located in the waters of the northern peninsula of Berau. Administratively, Sangalaki Island located in Berau Regency of East Kalimantan Province. Most sea turtles in the world are an endangered species. That includes species hawksbill and green…
---
  Maratua island is one of the outer islands in Indonesia that located in Sulawesi Ocean and it bordered with Malaysia. Maratua island is administratively located on Berau regency, East Kalimantan. Maratua is a small and long island, and it has sharply curve at the edge and it located at the south side of Tarakan city. Maratua Island is also part of Derawan Islands.   By the strategic location and the richness of its marine, Maratua island is now popular by the Travelers from many countries. The tourists who give…
---
Bangkirai Hill Bukit Bangkirai is a natural tourism area which is managed by PT. Inhutani I Unit I Balikpapan. This tourist area is located in Samboja District, Kutai regency, East Kalimantan. Bangkirai hill can be reached by traveling overland for 1.5 hours from the city of Balikpapan. This tour offers the charm of a tropical rain forest that is still natural, and facilitated with some infrastructures like restaurants, hall for meetings, a swimming pool and jungle cottage or cabin. In this area there is a canopy bridge along 64 m…
---
Bontang Bontang is a city in East Kalimantan province, Indonesia. The city is located about 120 kilometers from Samarinda, directly have border to the East Kutai regency in the north and west, Kutai Kartanegara regency in the south and Regency Makassar Strait in the east. In this city stand three large companies in different fields, Badak NGL (natural gas), East Kalimantan Fertilizer (fertilizer and ammonia), and Indominco Mandiri (Coal) and has a petrochemical industrial area called the Kaltim Industrial Estate. Bontang city itself is oriented in the industrial, services and…
---