Kaniungan Kecil Island in Biduk-Biduk Sub-District, East Kalimantan Province
---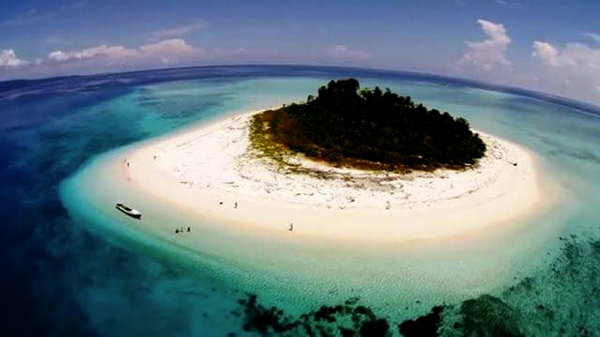 Derawan Archipelago never disappoints travelers. It is because the region is suitable for island hopping, vacation retreat, snorkeling, and much more. Located near to Teluk Sumbang Village, there is Kaniungan Island, on which tourists can explore. In fact, it consists of Besar (big) and Kecil (small) island. It is true Kaniungan Besar is popular among tourists, but that doesn't mean the small one isn't worth a visit. Despite the small size, Kaniungan Kecil Island is quite alluring. Most of the visitors come to the location to enjoy snorkeling and underwater photography.
The Nuance
In terms of beauty, Kaniungan Island is no less than its sibling. Its beach is alluring too! It features white sand with its soft texture, coconut trees, pristine sea water, calm waves, breezy wind, and warm weather. In a nutshell, the island represents a heaven-like vacation spot and it doesn't have any inhabitants either. With such serene nuance, visitors can spend a peaceful holiday and they might feel like staying on a private island! It looks deserted indeed, but it offers more than tourists could imagine. Even the horizon looks flawless!
Exploring Kaniungan Kecil Island
As soon as tourists get to the island, they can see a deserted land with its pristine nature. In the beach, the sea water looks quite mesmerizing. This explains why visitors are likely to get in the water and go snorkeling. Once they wear the gear, they are allowed to explore the sea. Lots of beautiful fishes would be their companion while snorkeling, actually. For those who don't like snorkeling, they can simply play on the shore, which is not quite deep. Some fishes are even seen there. Plus, the water feels so warm!
Apart from snorkeling, tourists should try a special activity called underwater photography. What they need are some diving skills and an underwater camera. What should they try to capture, actually? Well, many stunning objects are available like corals, fishes, etc. Thanks to the unspoiled nautical beauty. All of the attractions come in a good condition, as no humans have caused not damaged to the environment yet. Hopefully, Kaniungan Kecil Island remains virgin and beautiful all the time. With such quality, more tourists would definitely come to the island, either locals or foreigners.
Once travelers enjoy good times in Kaniungan Kecil Island, they can visit its neighboring island, which is called Kaniungan Besar. It also has pristine underwater beauty, but it comes with a resort and restaurant. That means tourists can rest and eat some foods before continuing their adventure. As for the tips, they must come with families or friends. The purpose is to make the vacation merrier or more festive. When it comes to accommodations, Biduk-Biduk Sub-district provides several options. Though, they are often overbooked during holidays.
Nearby Attractions
Kaniungan Besar Island
Sulaiman Bay
Teluk Sumbang Waterfall
Labuan Cermin Lake
Teluk sumbang (Water falls)
How to Get There
The fastest method is by airplane. In this case, travelers only need to head to Kalimarau Airport, which is located in Berau District. Next, they must drive for about 6 hours to Teluk Sulaiman Bay. From there, tourists should rent a boat and head to Kaniungan Kecil Island, which takes about half an hour. As an alternative, tourists can come from Balikpapan, which takes roughly 15-16 hours.
Where to Stay
Kaniungan Besar Resort
Hotels in Biduk-Biduk

Latest News
Sangalaki Island is a small island covering an area of 15.9 hectares. This island is one of the islands that are part of Derawan Archipelago. Derawan Islands is a group of islands famous in the world. Aside from Sangalaki Island, another famous island of Derawan Islands are Kakaban and Derawan Island. Sangalaki Island located in the waters of the northern peninsula of Berau. Administratively, Sangalaki Island located in Berau Regency of East Kalimantan Province. Most sea turtles in the world are an endangered species. That includes species hawksbill and green…
---
  Maratua island is one of the outer islands in Indonesia that located in Sulawesi Ocean and it bordered with Malaysia. Maratua island is administratively located on Berau regency, East Kalimantan. Maratua is a small and long island, and it has sharply curve at the edge and it located at the south side of Tarakan city. Maratua Island is also part of Derawan Islands.   By the strategic location and the richness of its marine, Maratua island is now popular by the Travelers from many countries. The tourists who give…
---
Bangkirai Hill Bukit Bangkirai is a natural tourism area which is managed by PT. Inhutani I Unit I Balikpapan. This tourist area is located in Samboja District, Kutai regency, East Kalimantan. Bangkirai hill can be reached by traveling overland for 1.5 hours from the city of Balikpapan. This tour offers the charm of a tropical rain forest that is still natural, and facilitated with some infrastructures like restaurants, hall for meetings, a swimming pool and jungle cottage or cabin. In this area there is a canopy bridge along 64 m…
---
Bontang Bontang is a city in East Kalimantan province, Indonesia. The city is located about 120 kilometers from Samarinda, directly have border to the East Kutai regency in the north and west, Kutai Kartanegara regency in the south and Regency Makassar Strait in the east. In this city stand three large companies in different fields, Badak NGL (natural gas), East Kalimantan Fertilizer (fertilizer and ammonia), and Indominco Mandiri (Coal) and has a petrochemical industrial area called the Kaltim Industrial Estate. Bontang city itself is oriented in the industrial, services and…
---